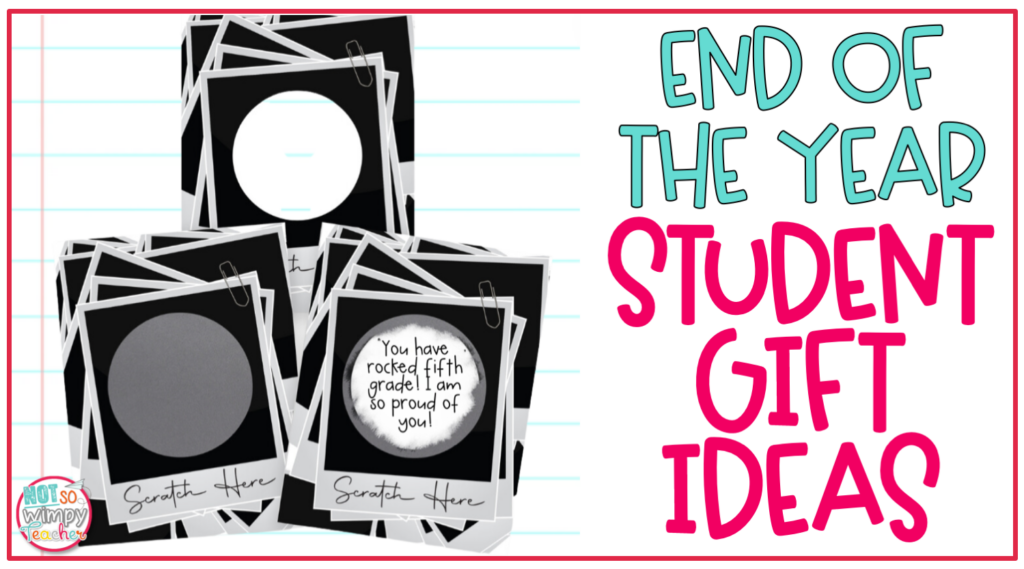 As we get closer to the end of the school year, teachers in my Facebook groups are asking for end of year student gift suggestions. I put together some of my best ideas!
First, student gifts are not required! Don't feel like you have to give one. I honestly don't think students expect them. The end of the year is a blur for students and teachers. If giving a gift is stressful for you–don't bother. It does not mean you don't love your students. You can always give hugs!
Gifting is my love language, so I liked to give a student gift at the end of the year. But I am not the kind of teacher who is willing to waste money on dollar store junk. I am a mom and I know that those trinkets get broken and/or thrown away within a day or two. It might seem cheap, but it ends up being a waste.
I also like for my student gifts to be meaningful and help my students to remember our year together. A sand pail or a beach ball don't generally hold much meaning.
Instead, might I suggest one of the following student gift ideas…
1. Book
I always took great pride in helping all of my students discover their love for reading. We shared many books during the year, so it makes sense to give a book as a gift. Plus, when you gift a book, you encourage a little summer reading.
Books can be purchased inexpensively through Scholastic. I collect the $1 books or buy sets that are discounted. If you plan ahead, you could try doing a Donors Choose project for books from Amazon.
Make the gift more meaningful by writing a personal message on the inside cover. My own children cherish books with notes from their former teachers.
Book Raffle
I really LOVE to make the book gift a fun end of year activity with a book raffle! Students can earn raffle tickets based on behavior. This helps with the end of year itch! Students love the raffle and go home with a book they can't wait to read.
Click HERE for more information about book raffles.
2. Class Video
In my past life, I must have been part of the paparazzi. I constantly took pictures of my students on field trips and doing fun activities in the classroom.
At the end of the year, I would use iMovie to make all of these pictures into a movie. Pair it with some fun music, and you have a special gift.
You can burn the song onto a DVD. I like this option because it becomes a keepsake. If you want a less expensive option, you can upload the video to a class website, Google Drive, or a private YouTube channel and provide a link or a QR code for students to access the video.
I love this gift idea because it reminds students of all the fun we had together! And it doesn't cost a thing!
3. Class Picture
Not a big picture taker? If you didn't take many photos during the school year, it might be difficult to put together a video.
That's ok! Gather your kiddos for a class photo shoot. Print the photo for each student and stick them in dollar store picture frames.
So simple! And still meaningful!
4. Awards
Student gifts don't have to be elaborate to be meaningful! How about hosting a class awards ceremony?
Print an award that is special for each of your students. As you present them, tell the class exactly why you chose that particular award for each student.
This is a feel-good activity and gift! Students leave knowing just how proud of them you are.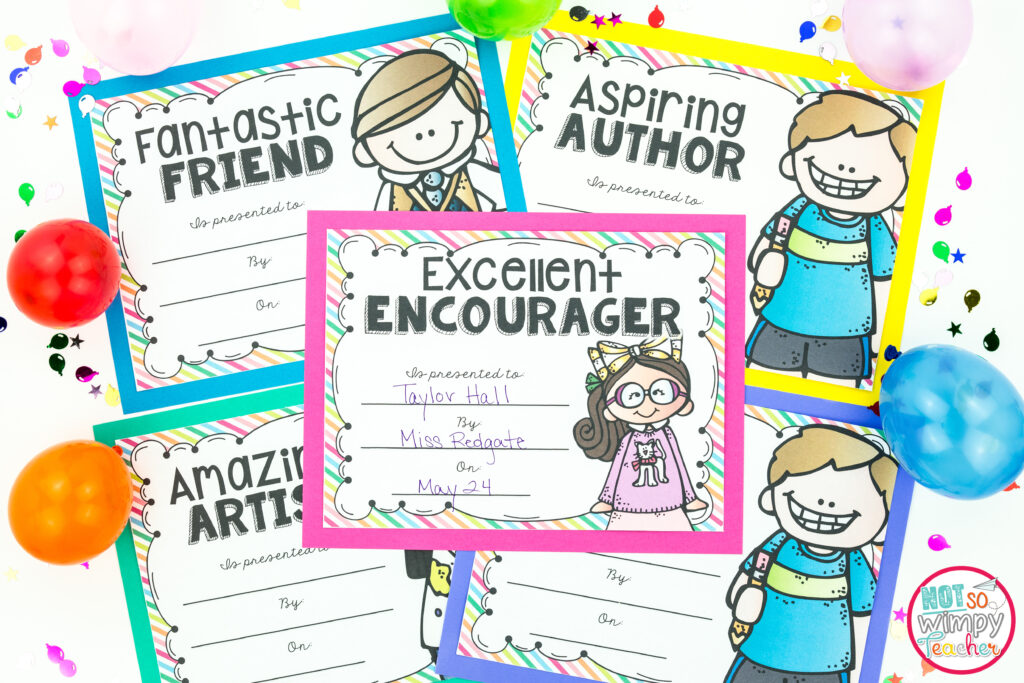 Don't want to think up awards from Scratch? Don't worry! I've got you covered!
My editable end of the year awards will help you celebrate the end of the school year in red carpet style. These easy-to-use awards make it simple to recognize each student for their growth and unique talents. An updated fillable PDF makes filling out the awards quick and simple.
Amazing Artist, Computer Whiz, and Social Studies Superstar are just some of the special awards included. Customizable awards make sure each student has something just for them.
5. Handwritten Note
A handwritten note is one of the most meaningful gifts that you can give. This is my favorite end of the year student gift!
In this digital age, it is super rare to receive a handwritten note. That makes them a million times more special.
Grab some pretty stationary notecards and spend a few afternoons writing personal and heartfelt letters. Not sure what to write? Here are some ideas to help get you started:
Something that made you proud
An example of their growth
A time you laughed out loud
Favorite memories from the year
Something you will miss about them
Your hope or dream for their future
If you feel comfortable, consider including your school email address and giving students permission to write to you and keep you up-to-date on their family and schooling. They love this!
6. Personalized Bookmark
Another super simple student gift idea that encourages a love of reading is a personalized bookmark. You can easily create a simple template in Canva and add your students' names and an inspirational quote, school motto, or a favorite classroom catchphrase. Simply print the bookmarks on card stock and laminate them for durability.
Each time your students pick up their favorite book, they'll think of you and the amazing things they learned in your classroom.
Another fun end of the year student gift idea is DIY scratch off cards. You can pick up a pack of DIY scratch off notecards for less than $10. Write your own message on each scratch off, place the scratch off sticker over the message, and voilá, a fun and personalized gift that students will love. You can use one message for the whole class or personalize notes for each student.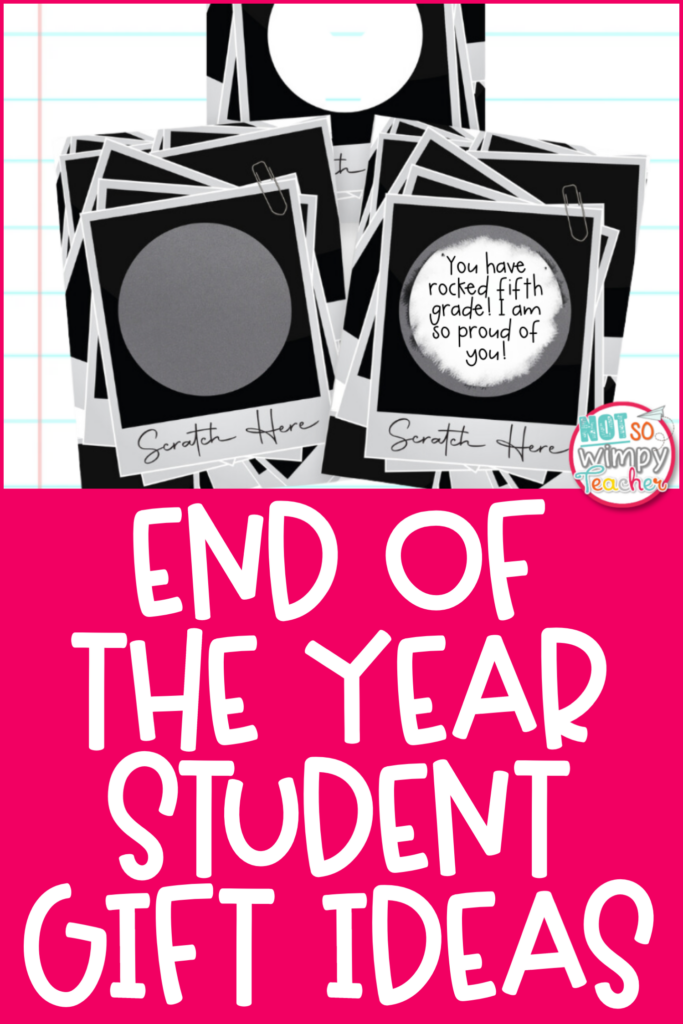 Whatever you decide, I hope that you are taking time to enjoy your sweet students during the end of year chaos. These moments are fleeting.
Have a Not So Wimpy day!
P.S. Looking for Christmas gift ideas? Check out this post.