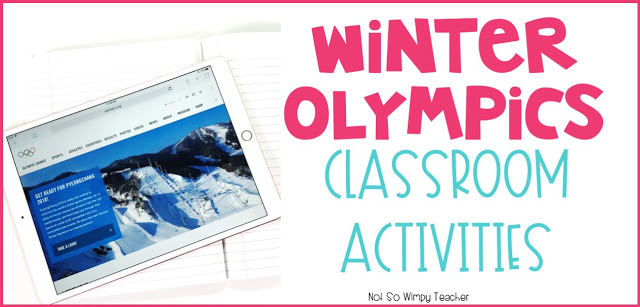 Are you looking forward to the Olympics? Aren't we all? Nothing like curling up with the family, the TV, and some American pride! ?? As a teacher, the Olympics are a great chance to unite the troops, so to speak. Not only can they be a great learning tool, but it's our chance to grab those sports-minded types and reel them in.
Turn your room into Olympic headquarters with these fun ideas!
Opening Ceremonies
Want to get your classroom excited? Host your own opening ceremonies! You can start by showing clips from past opening ceremonies. They can be found easily on YouTube.
Then have each student(or group) choose a country to represent that will be in the 2018 games. Have them make a flag to carry, write a paragraph about their country and team, and do a walk-through to introduce them. Maybe you can get a few classes to team up with you and have a parade around your school!
Or you could have each student make their own imaginary country with flag and what talent they have that would be Olympic-medal-worthy – like Legos, Mindcraft, cupcake-making, selfie-taking. Yes, you will get the ones that say they aren't good at anything, but that's why this is a great community-building activity! (*My little hint: do an interest survey ahead of time to reference for suggestions!) Do those paragraphs and then host a walk-through to introduce your team!
Winter Sports Close Reads
Close reading is not typically a student favorite, but if you give them something interesting to read- it can make all of the difference!
Grab THESE winter sports passages. Students will love learning about some Olympic athletes and sports. 
Winter Sports Project Based Learning Activities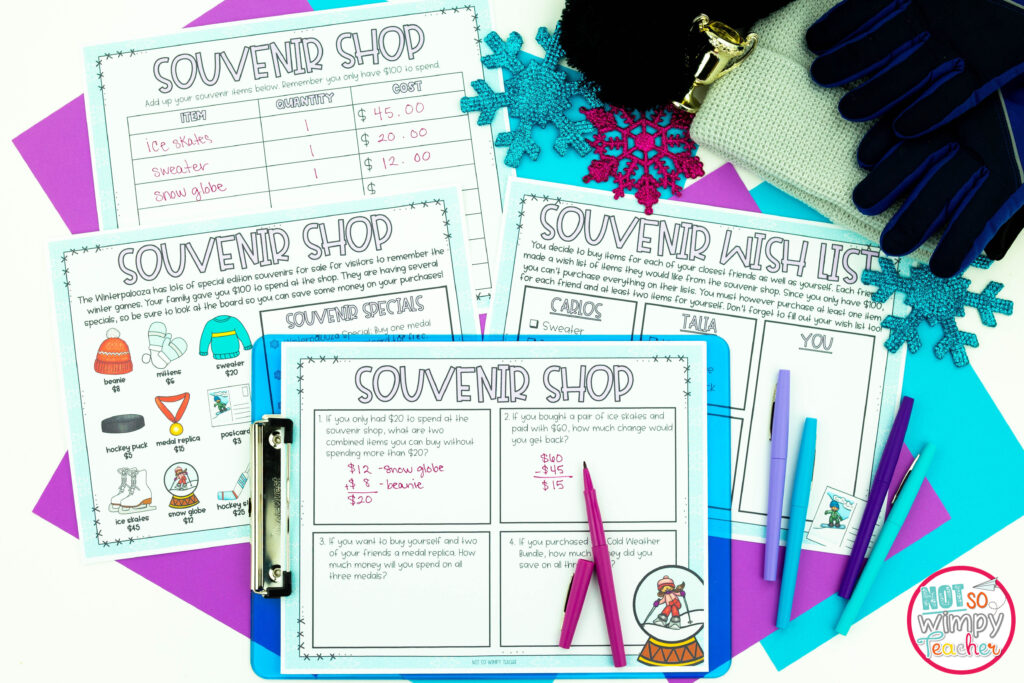 In this Winter Sports Project Based Learning activity, students have the once-in-a-lifetime opportunity to attend Winterpalooza. This special event happens every four years where athletes from around the world compete in a variety of sporting events like skiing, skating, and hockey.
Students will use their mathematical skills in various activities like planning the perfect schedule, maximizing their souvenir budget, and keeping track of event outcomes and medal counts. They'll be practicing lots of essential math skills like:
Time and elapsed time
Money
Adding & subtracting
Interpreting data
Graphing
And more!
This activity is designed for grades 2-5 and super easy to differentiate. It comes with two sets of activities, one intended for grades 2 and 3 and the other intended for grades 4-5. All you have to do is select the activities that are best for you class, print, and use.
Incorporate Technology
Wanting to get those iPads into play? Have teams race to find facts about the Olympics like when they started having winter games, how many countries are participating this year, what country the Olympics are in, what brand the USA participants will be wearing, which country usually wins the most medals, etc. You could even ask groups of students to make iMovies about one of the countries participating. Also, be sure to a medal count check each morning and ask for highlights. Use the Olympic website for all the good stuff!
Need to be more curriculum-driven? Do geography of the countries participating. Do probabilities of athletes winning. Graph medals earned from a handful of countries. Use those language skills to tweet or email US athletes questions – they are expected to interact!
Mix Sports & Competition into your Routine
All those vocab words, spelling tests, and math facts getting monotonous? This is the perfect time to make a competition out of it. Every word or math fact right in the review game is a chance to take a shot to shoot a goal with your pool noodle stick and dish sponge puck. You can even cross-classroom (country) ski with wrapping paper tube poles and pool noodle skates cut to fit and rubber-banded to feet or go the simple route with the Olympic ring toss!
Cereal Box Craft & Research
Everybody knows the winner goes on the Wheaties box! Have your class make their own Wheaties boxes by covering empty cereal boxes with paper. Nothing like an old-school cut and paste project! Each student researches an athlete that's competing to put on the cover with a short synopsis about them and a little about the rest of their team on the back. Use the side panels for having them research places to visit in South Korea, the weather/climate, and population. Bonus points if you teach the kids a little about advertising in the process, too!
Oh, and don't worry about getting cereal boxes for everyone. Ask on your school website for empty-box donations, or a swap page, or your own personal social media. You probably have at least one family that could provide them all in one week!
Gold Medal Behavior
How about a fun behavior management competition?! Grab some medals from a party store or Walmart. Choose one table each day to be your table of the day (based on behavior and participation from the prior day). Give each student at the table a medal to wear for the day. It will be fun to walk down the halls of the school and have people ask why they have medals! Collect them at the end of the day to give to another group tomorrow.
Whatever route you prefer, enjoy this opportunity to cultivate patriotism and unity. Go USA!
For additional ideas, check out Winter Olympics: 4 Easy Ways to Celebrate in the Classroom.
Have a Not So Wimpy Day,