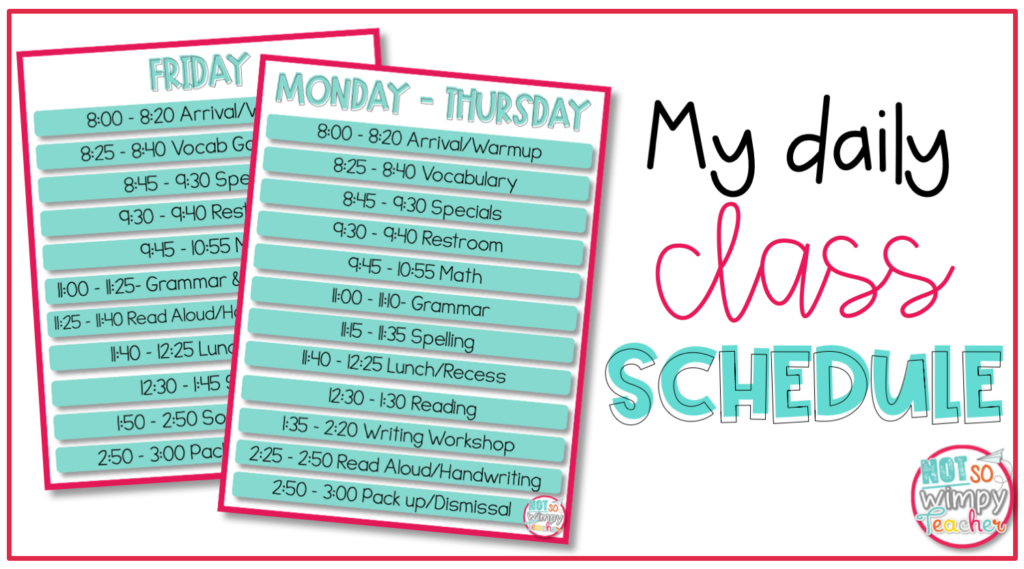 Creating a daily classroom schedule that fits in all of the curriculum, specials, pull outs, etc is like cracking the code to a government vault. It's nearly impossible to make it all work. The number one question that I receive from my teacher besties is, "How did you fit this all in?"
So I decided to show you my schedule.
But first…
Before I share my schedule, I feel like you need to agree to a few things…
I know that every school, every district, every administrator and every state is different. Plus, every class has very unique needs. My schedule won't work for everyone. Got it?
Yes, I had a very unique start and end time. Most students at my school were in classes with a traditional 8-3 type schedule. There were a few classes in each grade that had this alternative schedule. Parents loved having a choice. Plus, it allowed the school to fit more students in one classroom because they had an AM group and a PM group that shared the same classroom (but had a different teacher.) Please look past the time of day and focus more on the amount of instruction time I used for each subject if you can.
I am not in the classroom anymore. I left the classroom to work on curriculum development and professional development. You can read more about this choice by clicking HERE. I am just sharing what I did when I was teaching third grade. Okeyie-Dokie?
Let's get started!
Monday-Thursday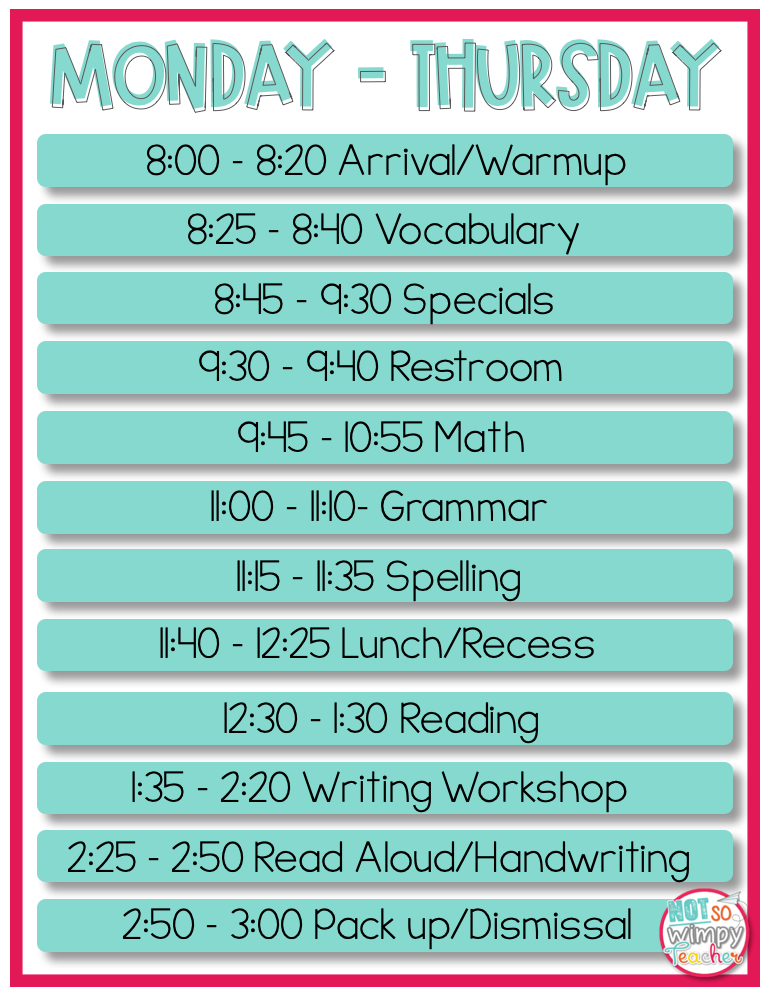 Whole Group Math- 30 Minutes
My school used Eureka/Engage NY for math. I loved it! During whole group time, I used the curriculum. But I moved fast! I used this time to introduce concepts, but I knew that the real magic would happen when I met with small groups and we used manipulatives.
We typically did some skip counting and/or a sprint (math facts page). Then we would do one review problem from the day before followed by the new lesson. For the most part, I did a new lesson every day.
Math Centers- 60 Minutes
Math center time was hands-down my favorite hour of the school day! It was the time that I got to watch my kiddos grow by leaps and bounds as mathematicians.
I would meet with two groups each day for 30 minutes per group rotation. This long amount of time gave us more of a chance to dig in deep and decreased time wasted on transitions. Since I was only meeting with groups every other day, we would tackle skills from the previous day's lesson and the current lesson. Typically they went together and it made sense to practice them together.
While I met with groups, my students completed centers. The center activities were meaningful, but consistent. This meant almost no planning time for me!
If you want to read more about my math center schedule and grab free signs to display the center schedule, click HERE.
If you want to read more about the types of activities my kiddos did during centers, click HERE.
Snack/Restroom/Read Aloud- 25 Minutes
Since my students were only at school for half of the day, they did not eat lunch at school. Therefore, they were allowed to bring a dry snack to school. Many of the kids would bring sandwiches and treat it like it was lunch!
Time was crazy limited, so I always read to them during their snack. This was actually how I introduced my reading lessons.
You can read more about my reading whole group lessons by clicking HERE.
Reading Groups & Centers- 60 minutes
I used a similar routine for my reading groups as I did for my math groups. I would meet with two groups per day for 30 minutes per group. We spent most of our group time practicing our reading skills and standards using book clubs. Having 30 minutes with each group gave us more time to get invested in the book before having to clean up and move on.
You can read more about my book clubs by clicking HERE.
While I met with my groups the rest of my class did center activities. These activities centered around spending lots of time reading text of their choice. That is the best way to increase their love for reading! Kids who love to read will read often!
You can read more about my reading center activities by clicking HERE.
Vocabulary & Language- 20 minutes
After reading groups, I spent ten minutes doing whole group vocabulary instruction. We always discussed new words and context clues when we were reading during book clubs, but I think that it is imperative to teach tier 2 vocabulary words too. My kids grew so much from these ten minutes!
You can read more about my vocabulary routine by clicking HERE.
I also spent about ten minutes doing language (grammar) instruction. My third graders always struggled with grammar. Most of the time they did not even know the basic parts of speech.
You can read more about my simple grammar lessons by clicking HERE.
Writing Workshop- 45 Minutes
I used the workshop model to teach writing. This means that I would do a very short mini lesson and then students would spend the rest of the time working on their writing. Students generated their own story topics and I did not give assigned writing prompts.
You can read more about my writing workshop by clicking HERE.
I also have a free writing instruction email course that you can check out by clicking HERE.
Fridays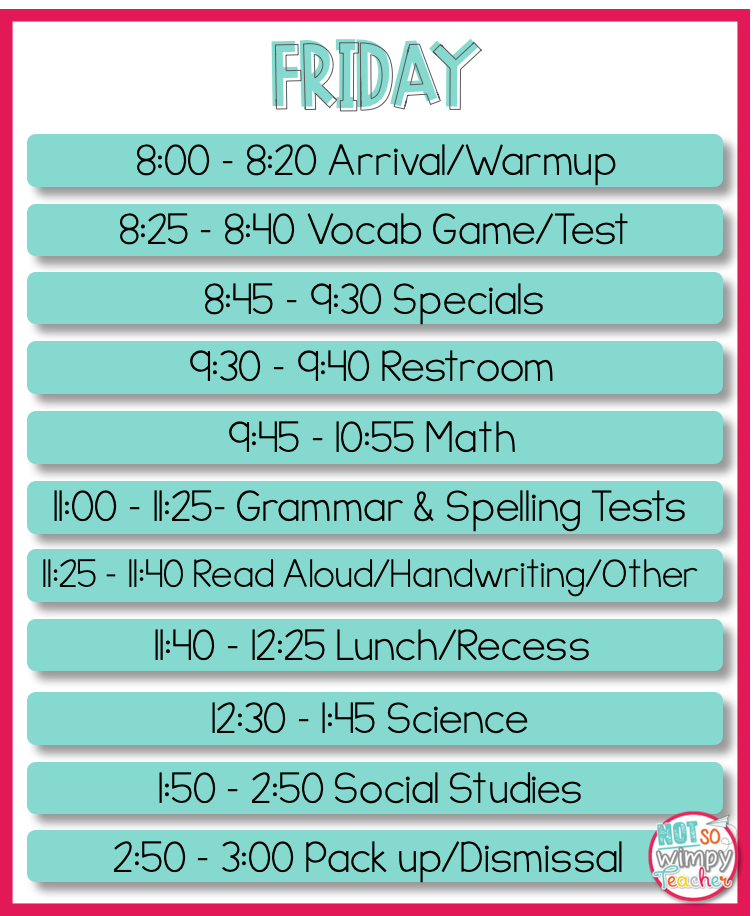 Vocabulary Game- 15 Minutes
My students loved playing a vocabulary game with their words from the week. I usually threw in the previous week's words as well so that students were not forgetting those words. Our Friday game was typically a whole group game.
You can read about our vocabulary games and grab some free ones by clicking HERE.
Assessments- 45 Minutes
Assessments aren't fun, but they have to be done. Each week we had to do a math fact, spelling and grammar assessment. Every other week we did a vocabulary assessment. They were all very short assessments that I could literally grade as they were turning them in!
We had math assessments from time to time as well. They came straight from our curriculum.
Science & Social Studies- Almost 3 Hours
You may have noticed that I didn't include dedicated science and social studies time in my schedule Monday-Thursday. We might incorporate some science and social studies when we were doing informational reading and writing standards, but the majority of science and social studies was done on Friday.
I loved having a long block of time on one day so much more than a small block all week. We actually had time to do research, experiments, STEM, projects, presentations, art and more!
My school did not have any science or social studies curriculum. I would just search Pinterest and TpT for activities that fit the units I had to teach.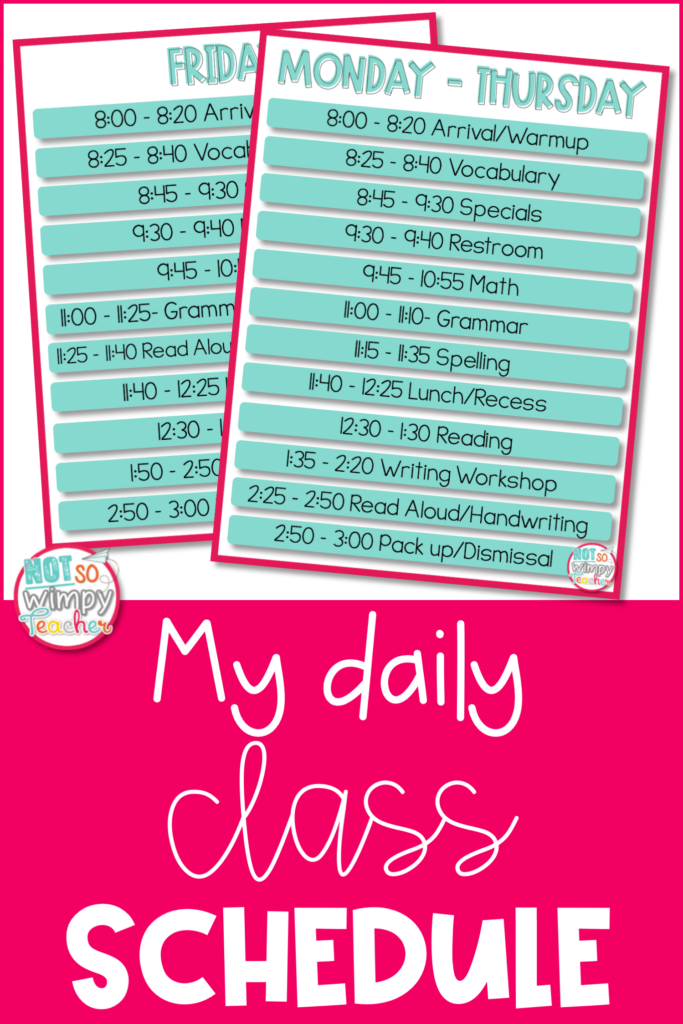 Have a Not So Wimpy day!
PS: Check out this post for tips on planning a fun and engaging ELA block.