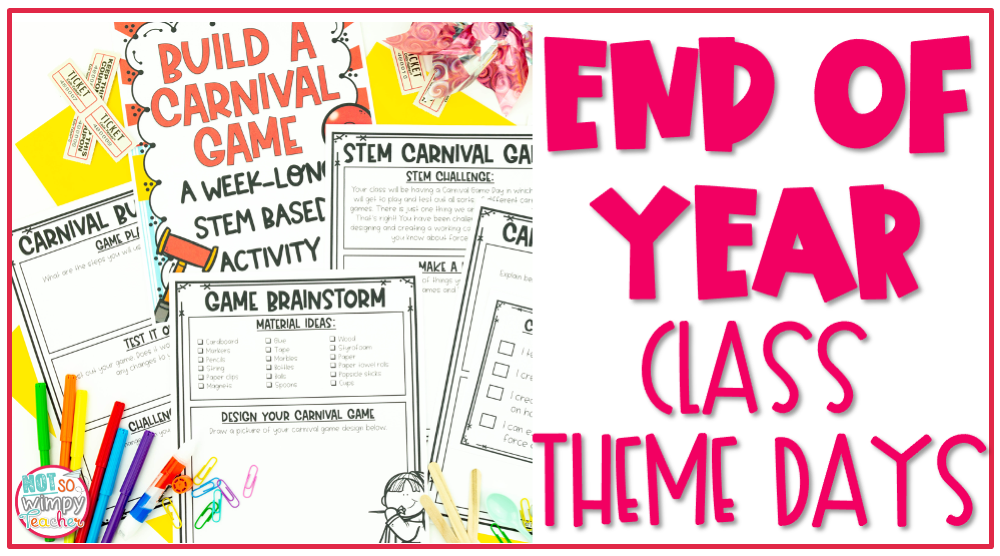 During the last weeks or days of school, I am looking for fun ways to celebrate with my students. We have become such great friends, and I want to end the year with a bang! Having end of year theme days during that last week can be so much fun.
You can sneak in academics if you need to, or you can just make it a celebration. It's up to you! Check out these awesome end-of-year theme day ideas:
12 end of year theme day ideas to try in your classroom:
1. Camping Day
The kids always love it when I transform the classroom into a campsite! We move the desks out of the way, and students bring in sleeping bags and flashlights or lanterns. I play a YouTube channel that has a campfire with crackling sounds. Students can read by flashlight.
It is also fun to celebrate your student authors by having them read their most recent story. Don't forget to serve s'mores for a snack! You can make solar ovens and make them outside or just put Golden Graham cereal, marshmallows and chocolate chips in a baggie for a less messy version.
2. STEM Day
STEM projects are lots of fun, but I don't get to nearly enough of them during the school year. So why not devote a day during the last week to STEM? You can put different activities around the room and have students rotate like centers or do several altogether. THESE free summer STEM projects look perfect!
3. Water Day
Nothing says, "Summer is coming!" like a water day! Have students bring a towel and wear old clothes or a swimsuit. Go outside and have a water balloon fight!
You can throw in some academics by doing a STEM project to see who can build the boat that holds the most weight. I give students foil, and we test the boats by putting pennies in them while they float in a bucket or sink of water. You could also do a science experiment to see which items dissolve in water: sugar, salt, coffee, rice, or cocoa. Don't forget to do some water coloring! Have students paint the first thing that comes to mind when they think of water!
4. Game Day
I like game day because it is very simple to plan and gives me a little time to take down a bulletin board or fill out one of the many spreadsheets that the end of year requires. Students like this day because it gives them a chance to play and chat with their friends before the long break. Have students bring in their favorite card or board games. You can put students in random groups or have them choose their own groups and enjoy the games.
You could also play a whole group game like Bingo or Jeopardy.
5. Hollywood Day
Roll out the red carpet (aka a piece of red fabric from a craft store!) and celebrate your student celebrities. This is the perfect day for a class awards ceremony. Every student receives an award!
A photo booth would be awesome! You can be the paparazzi! If you have the proper technology, you have students use iMovie or another app to make movies about their favorite memories from the school year. You can watch the movies together while enjoying some popcorn.
6. Sports Day
We were a team all year, so it makes sense to end the year playing as a team with a special sports day. You can ask students to wear a shirt or jersey with the logo of their favorite sports team. Enjoy a class game of soccer, kickball, or basketball.
End the day with hot dogs and Cracker Jacks while watching the movie Everyone's Hero. It's a cute movie about friendship from the point of view of a baseball bat and ball!
7. Decades Day
Encourage students to come dressed from a different decade! You can have a few centers to commemorate different decades. Students can learn the Hand Jive at the 50s center and do a tie-dye art project at the 70s center.
Put some Rubix cubes in the 80s center. You can play lots of fun music from the various decades! Throw in some academics by assigning groups to research the president, wars, and famous people from various decades. They can present their research by creating a poster.
8. Art Day
Art is another one of those activities that my students love, but I know I didn't do enough of during the year due to time. Students will love having an entire day dedicated to art! Students can paint, create something out of clay, and do bubble art or shaving cream art.
You can also have students research and write about some famous artists.
9. Travel Day
How about taking your class on a trip without leaving the classroom?! This is a great way to extend your geography unit. You can set up centers around the classroom for different countries or states. In Mexico, students can make salsa. In France, they can learn to count to ten in French.
You can also give them LEGO or Play-Doh and have students build replicas of famous landmarks in different states or countries. Students can do some research and make travel brochures! How about some opinion writing about a place they want to visit?
On travel day, you might even take your class on a "field trip" to the next grade! Arrange with the teacher. Pair your students with her students and have them ask questions about homework, centers, science units, etc.
10. Talent Day
Everyone has a talent! It's fun to have a day to celebrate those unique talents. Students can sing, dance, play an instrument, show a trophy, display an art project, etc.
11. Carnival Day
A carnival day is fun and perfect for the last few days of school. You might want to take this one outside. You can set up some simple carnival games such as a bean bag toss and throwing ping pong balls into Mason jars.
Enjoy some corn dogs and cotton candy because everyone knows the best part of a carnival is the food! If you want to add some academics to this day, do a STEM project where students build a rollercoaster with straws, paper, tape, and a ping pong ball or marble.
Carnival Week Resource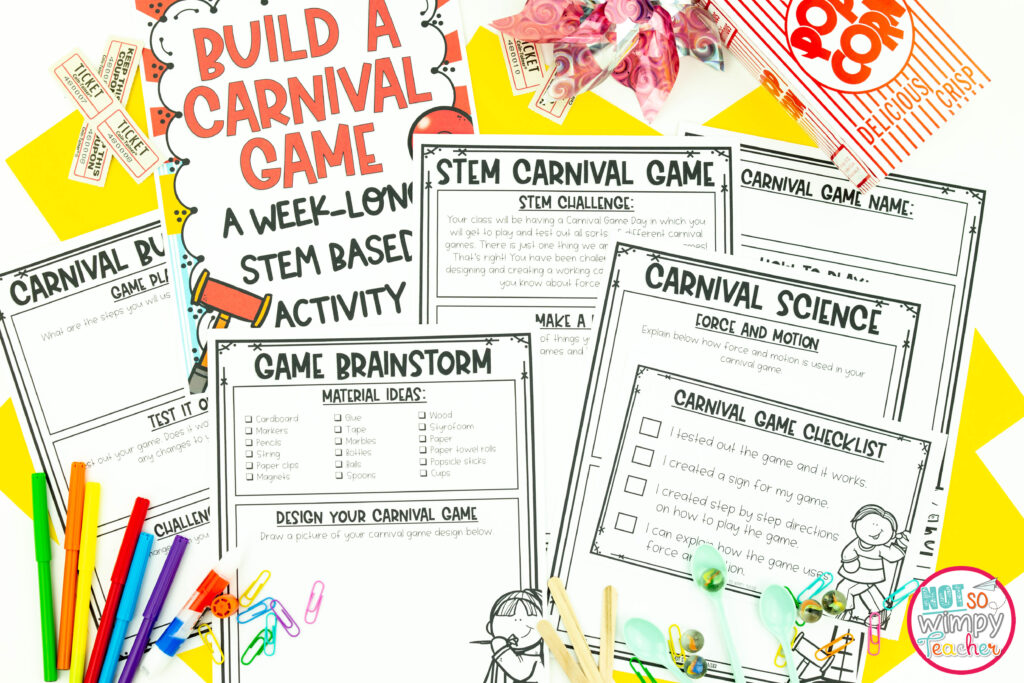 And keep the fun going inside the classroom too. And the learning. Our fun and engaging Carnival Week Resource includes five days of activities in 4 different subjects: math, reading, writing, and science. There's also a week-long STEM exploration and a differentiated math board game.
It has EVERYTHING (but the popcorn) you need to keep your students not just occupied but engaged for an entire week. This differentiated resource is best for grades 2-5. Talk about making your end-of-year planning easy.
12. Make it Shine Day
Throw on some fun upbeat music and have students help to clean the classroom until it shines! They can test all of the markers and pens and throw away ones that don't work or are missing lids. Students can organize the classroom library and fix books that have been torn. You can have kiddos dust tables and shelves. My students especially love cleaning their desks and chairs with THIS activity.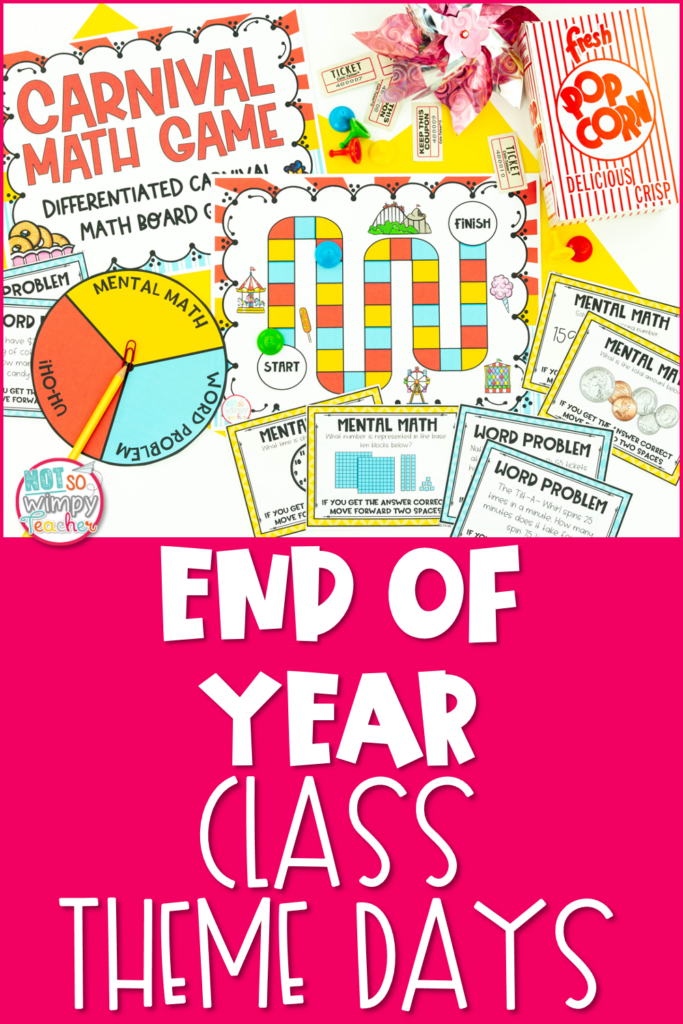 I hope this gives you some ideas for end of year theme days to try in your classroom.
Have a Not So Wimpy Day,