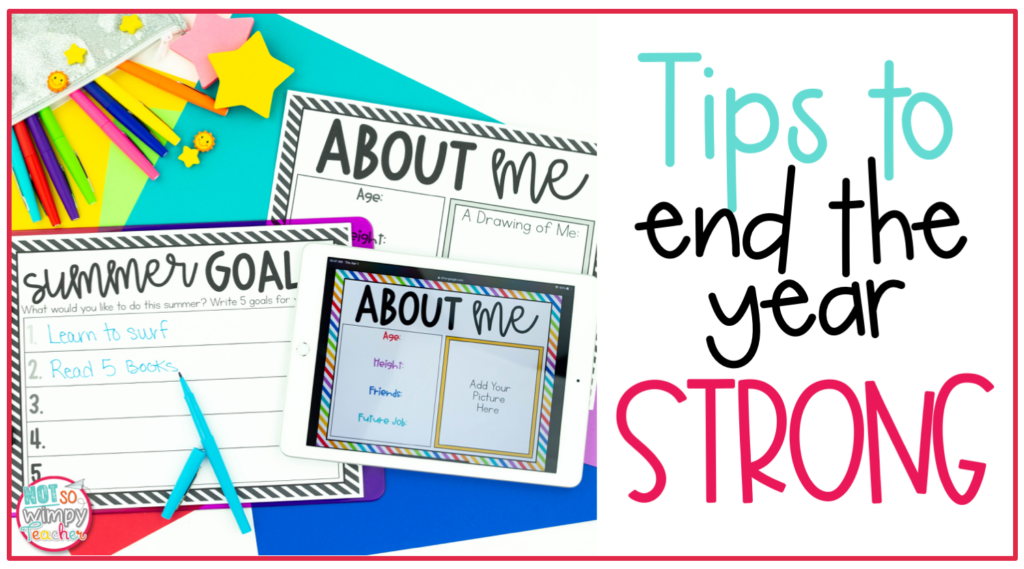 The end of the year is fast approaching. (Yes, even for my east coast teacher friends. I promise it is coming). I don't know about you, but this time of year always gave me a mix of emotions. Excitement, anticipation, relief, sadness, overwhelm . . .
As much fun as it is to look forward to summer vacation, it can also be bittersweet to say goodbye to your students. After all, you've spent the last nine months forming a cohesive classroom community.
Plus, you have to keep them occupied for a few more weeks. Here are 11 tips for finishing the school year strong and having fun in the process.
End of the Year Tips:
Go Outside
If the weather permits, go outside as much as possible. And I don't mean a whole bunch of extra recess. Although a little probably wouldn't hurt.
Take your lessons outside. Read aloud under a tree. Let kids write on the playground. Practice spelling words or math facts with sidewalk chalk.
When the nice weather finally arrives, it beckons us all outside. Instead of trying to fight the urge, go enjoy the sunshine while you learn.
Role Reversal
Let the students be the teacher. Pair kids up and let them select a lesson to teach the class. You can brainstorm ideas, assign different subjects, or even come up with the lessons ahead of time and let students draw sticks.
Then back off and let them get to work. They can plan, prepare, and teach the lesson to the class. Kids love creating Google Slides and using the whiteboard to teach. It will give you a break to tackle some end-of-the-year tasks and keep them busy.
Plus, you've heard the old adage: the way you know if you really understand something is if you can teach it to others. Just think how much they will learn.
Readers' Theater
A great way to practice a number of ELA skills is readers' theater. Have your students select a picture book and turn it into a production.
First they will write the script, then assign roles, rehearse their lines, create props and basic scenery (if you have time), and then perform for the class. They'll be practicing reading, writing, and speaking skills. Plus, your students will get in a little creativity, too.
Want to take it up a notch? Invite families to come to the performance. Or put on the show for another classroom. You could also video the skits and share them with families.
Create a Gallery Walk
Another great way to see what students learned this year is to ask them to share their expertise with next year's students. There are many ways to do this, but one of my favorites is a gallery walk.
Brainstorm different topics next year's students will need to know about your class:
What You Need to Know About:
Math
Reading
Writing
Specials
Homework
The Teacher
Testing
Special grade level events
Specials
Technology
Your list will be unique to your classroom. And rest assured, your students will know just what to teach the younger kids.
Once you've brainstormed the topics, have each student write their ideas on a sticky note and add it to chart paper. Then, after a class discussion, assign different topics to groups of students and let them prepare posters with the tips.
Most important, be sure to invite the lower grades up so your students can share their hard work and help prepare the younger kids for next year.
Have a Carnival
Make the last week of school special and easy by enjoying a Carnival in the Classroom.  Your students will love this fun way to wrap up your year together, and you will love this weeklong done-for-you resource that keeps kids learning right up until the last day of school.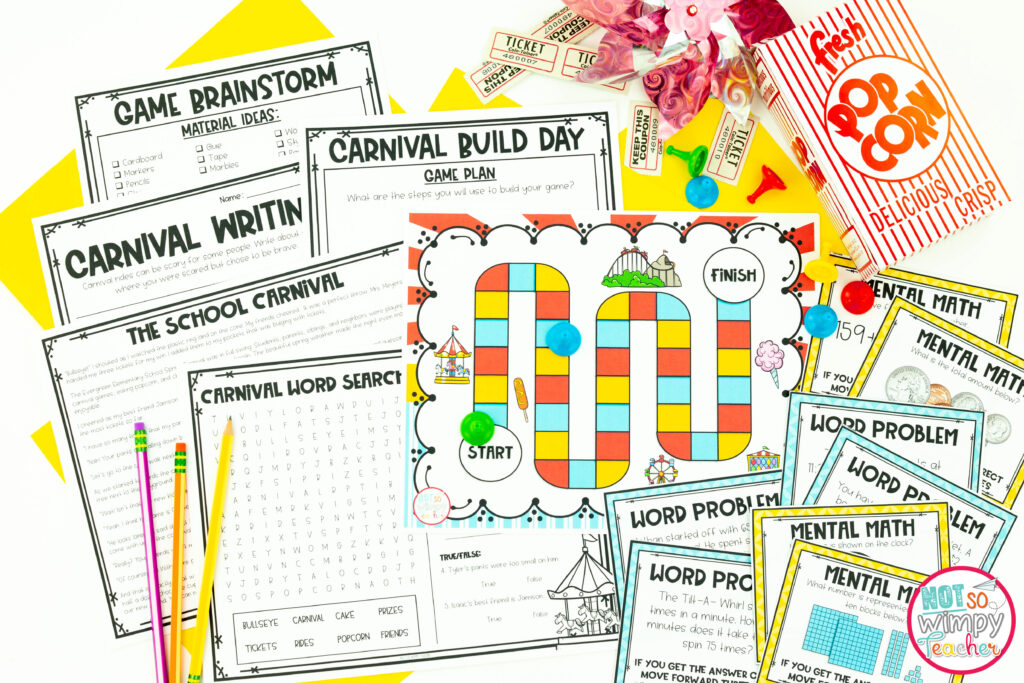 Our Carnival Week Resource includes five days of activities in 4 different subjects: math, reading, writing, and science. There's also a weeklong STEM exploration that has kids building their own carnival game and a differentiated math board game.
It has EVERYTHING (but the popcorn) you need to keep your students occupied and engaged for an entire week. This differentiated resource is great for grades 2-5.
At the end of the week, students get to try out each other's games. You could even bring in some snow cones or corn dogs to make a true celebration. Talk about a fun way to end the year!
Movie Day
You've made it this far, go ahead and celebrate with a movie. You can pick a film related to something you learned or read about this year. Or just give the students five options and let them vote.
Either way, it's okay to kick back, relax, and watch a movie (or two) together. Some great choices for the end of the year are:
Wonder
Stuart Little
Coco
Peter Pan
Legend of the Guardians
Trolls
A Bug's Life
End of the Year Memory Book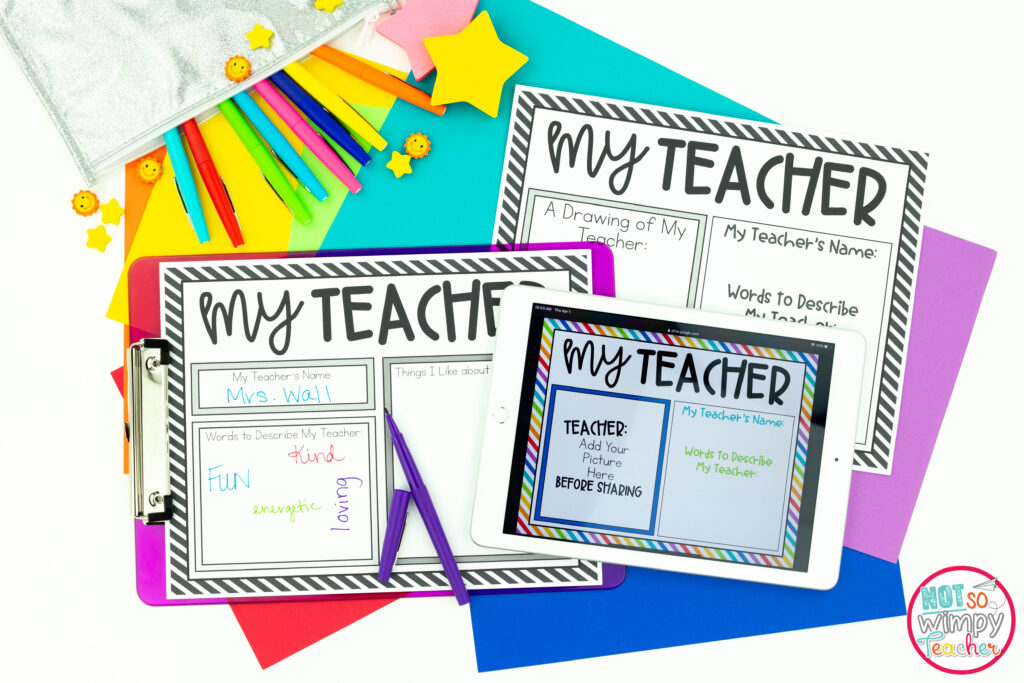 The end of the year is a great time to reflect on everything you learned. And this Memory Book activity makes it super easy and fun to do so.
The Memory Book includes both printable and digital files. It includes cover pages for Grades 1 through 5. Kids will love recalling details about their favorite subjects, school days, and classmates. They can also make summer plans and record what they are looking forward to next year. There is even room for pictures.
Plus, the editable slides make customization easy. Not only is the memory book a great way to remember all the fun events of your year together, but it makes a beautiful keepsake for years to come.
Plan for Next Year
It is always a good idea to take a minute to reflect on the year and make some plans for next year. What lessons went well? Which ones flopped? What concepts did the students grasp easily? Which ones were a struggle? What resources do you need to add to your collection to make teaching easier?
If you're looking to streamline your teaching routine, check out these great resources:
Grammar
My entire grammar routine is designed to be taught in ten minutes a day. Each week follows the same schedule so kids know what to expect. The prep is easy. The lessons are fun. And all of your grammar lesson planning is done.
Monday: Mini lesson
Tuesday: Interactive Notebook page
Wednesday: Use the grammar skill in writing
Thursday: Task cards
Friday: Assessment
Writing
My writing units contain everything you need to teach four genres of writing: personal narrative, informational report, opinion, and fiction. Each unit includes:
PowerPoint mini lessons
Anchor charts
Student printables
Mentor texts
Student writing tasks
Rubrics
Finally, take the guesswork out of teaching writing.
Math
My favorite way to teach math is with math centers. If you've been wanting to try math centers but feel intimidated about gathering all the activities and supplies, you will love my yearlong math centers bundles.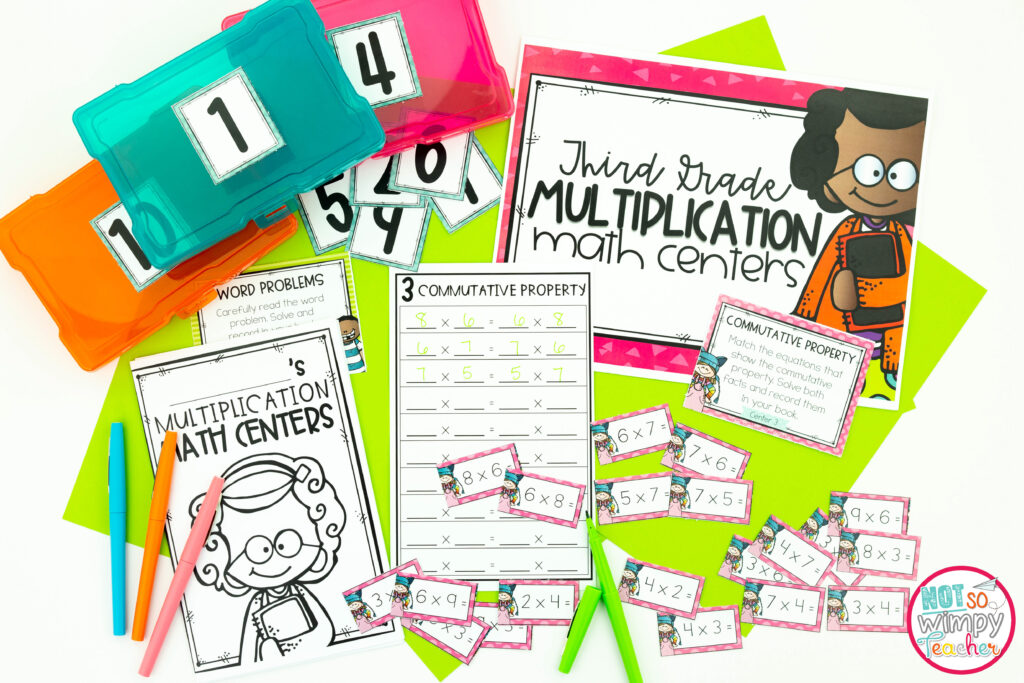 These bundles contain 90 done-for-you math centers. Each unit includes the same activities: task cards, sorting, matching, math writing, and more so kids learn the routine and can work independently. They love these hands-on, engaging activities.
Want to learn how to make math centers easy and efficient in your classroom? Check out my blog post HERE.
And if you teach second, third, or fourth grade and are ready to revamp your entire math block, you need to check out our math curriculum. (Currently, second grade is a growing bundle).
This curriculum has EVERYTHING you need to teach math in an engaging and effective way. We've kept things super simple for you (one page standards-based lesson plans that include intervention and enrichment activities), assessments, exit tickets, anchor charts, vocabulary cards, resources, and so much more. And we make it fun for kids (task cards, games, and project-based learning activities).
You won't believe what a difference this math curriculum can make.
Spelling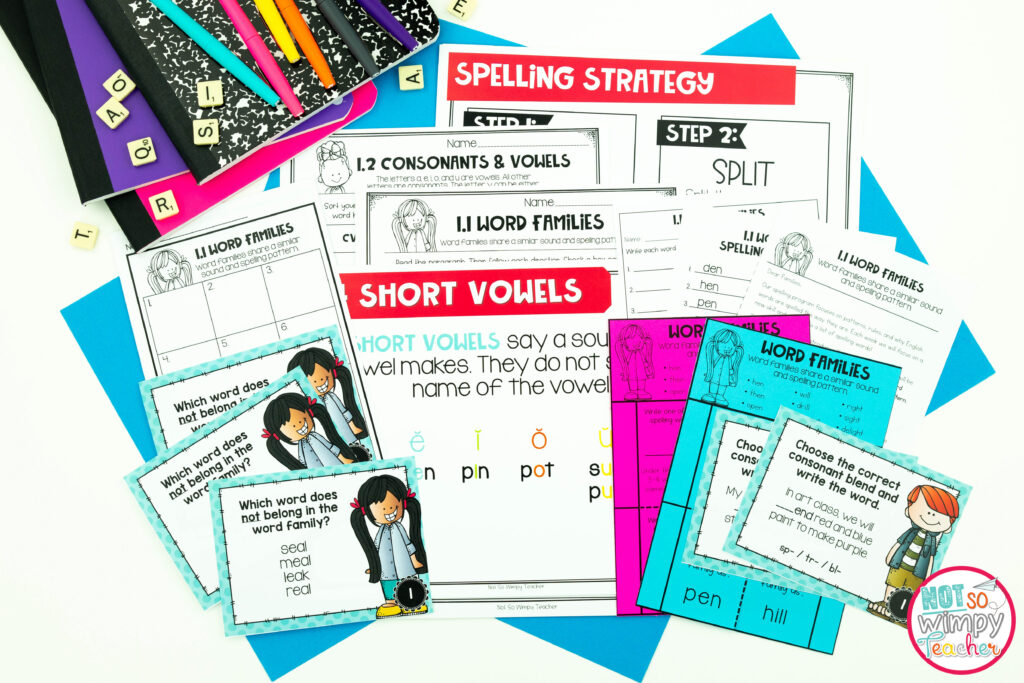 At long last we have a spelling program for second and third grade. The third grade curriculum is complete and the second grade curriculum is a growing bundle, but it will be finished long before you need it.
Take Time to Celebrate with Your Team
This is a busy time of year, but if you are lucky enough to work as part of a teaching team, don't forget to make time to celebrate the end of another amazing year. You all worked hard this year to help kids learn and grow and make learning fun. You deserve to take a minute to celebrate together.
Order in for lunch. Or have a potluck in the teacher's room. If you don't eat lunch together, try muffins before school. Or write a simple note to your colleagues telling them what you appreciate about them.
Never underestimate the power of positive feedback.
Do something for yourself every day
Last minute grading, packing up your room, data meetings, field days, special events, planning for next year, end of the year student gifts. There's a lot on your plate right now.
Don't forget to take some time for yourself each day, whether that's quietly sipping your first cup of coffee, enjoying an iced tea after school, going for a walk in the park, or just sitting in the sunshine. Read a fun book or listen to your favorite podcast (not a teaching podcast). Make time to relax and enjoy the spring.
Breathe, Hug, Smile
Soon this will all be over. Your kiddos will be packed up and gone.
Enjoy these last few days together. Take a deep breath. Appreciate how far your students have come and how much they have grown. Pull out some of their first lessons and compare them to what they are doing now.
Make time for your favorite classroom rituals. Go ahead and play one more time on Go Noodle. Laugh together. Savor the memories. Give hugs. Enjoy your kiddos.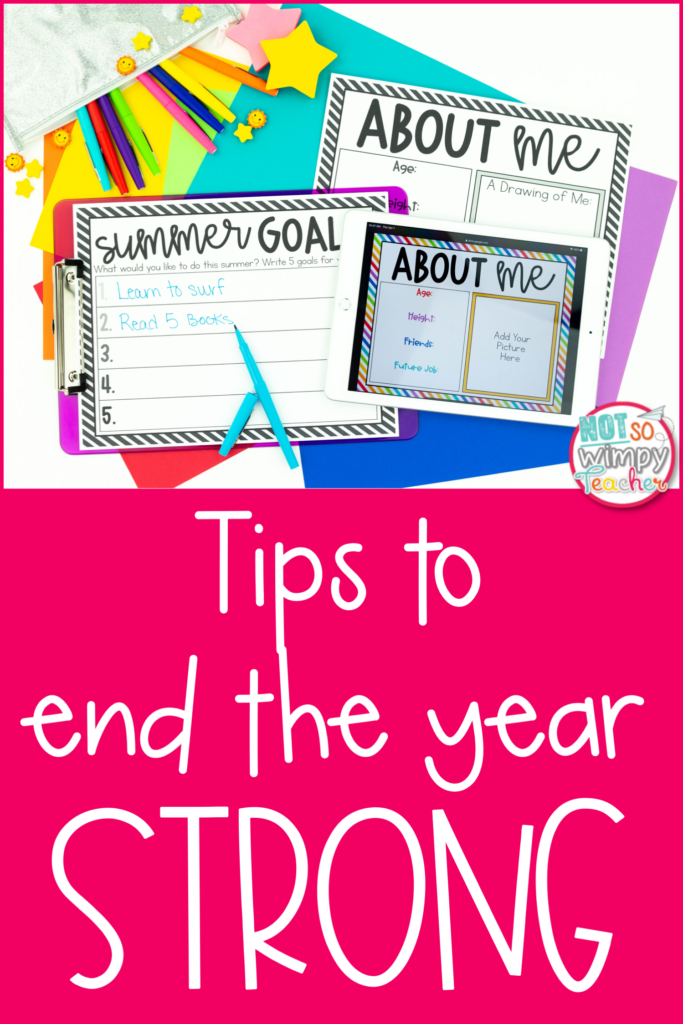 Have Not So Wimpy Day,