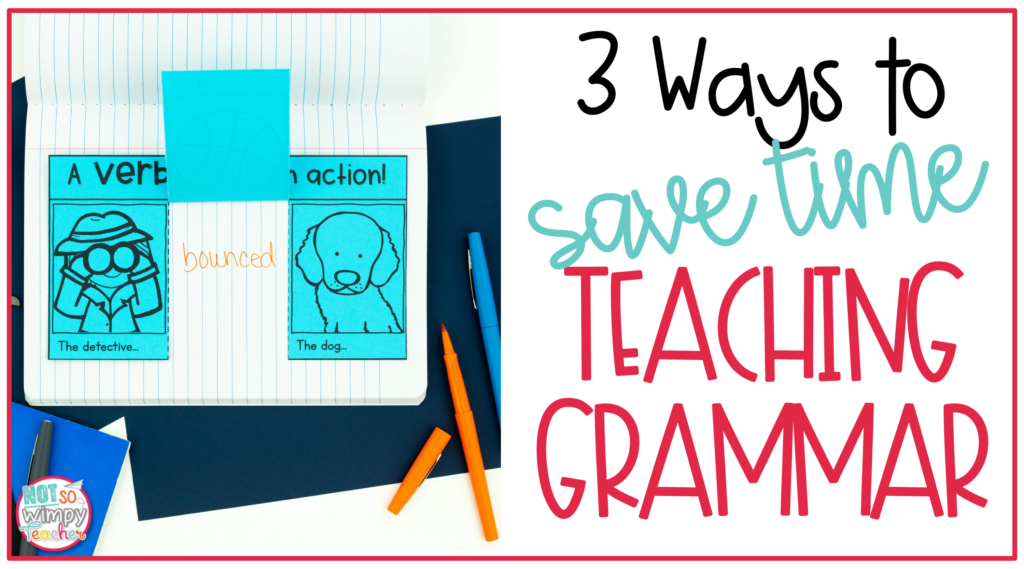 Today, friends, we are talking about grammar. Now, I know that not everyone loves grammar. Some of you probably even loathe grammar. Lucky for you, I'm a grammar nerd. And over the years I've come up with 3 smart ways to save time teaching grammar. 
Less time teaching grammar means more time for math, STEM, writing, or recess. Take your pick. But I can honestly say I've never had anyone complain about spending less time on grammar.
So without further ado, let's get into 3 smart ways to save time teaching grammar.
Keep your mini lesson mini
If I had a dollar for every time I offered this advice for teaching grammar, I'd own a private island. #justkidding (Maybe just a private plane.)
But seriously, one of the easiest and most effective ways to cut down on your lesson time is to master the art of the mini lesson. I know you love to talk. I love to talk. It's one of the reasons we became teachers. But students don't love to listen to us talk. And if we talk for too long, they just stop listening. And maybe even start acting up.
Nobody has time for that.
So . . . please, please, please, keep your mini lesson mini when teaching grammar. I'm proud that my grammar program can be taught in just ten minutes a day. That means that your mini lesson is–yep, you guessed it–no more than ten minutes long.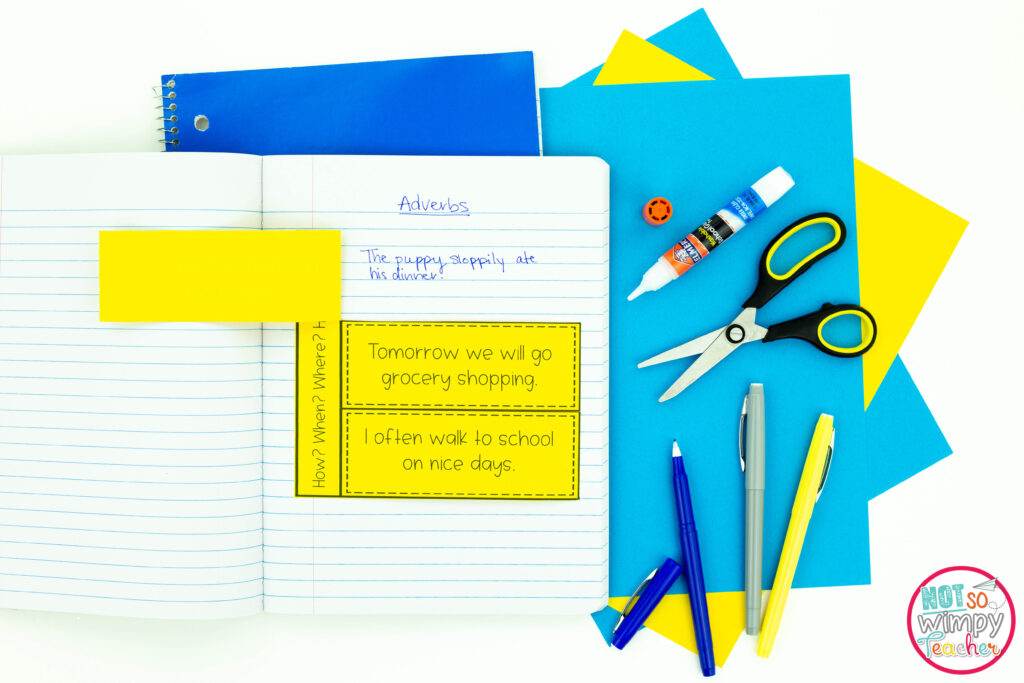 If you find yourself struggling to keep your lesson brief try these tips:
Practice, practice, practice. The more you practice delivering the lesson the faster you'll get to the important parts. So practice in the shower, on your drive to school, or even when you're walking the dog.
Record yourself. After you've practiced, record the lesson. Then listen. You're specifically looking for time-fillers, like, "uhs" and "ums," and time wasters, like getting off on a tangent about different colored grapes at the grocery store during a lesson on adjectives. Also, be on the lookout for repetition. As teachers, we have a tendency to repeat ourselves. It's part of our earnest hope that, eventually, we'll be able to make all the kids understand the lesson. But, spoiler alert, this is never going to happen during the mini lesson. And that's okay. Your students will be working on this skill all week long. You can't expect them all to get it on day one.
Set a timer. Really. Set a timer for ten minutes. And when the timer goes off the lesson is done. If you're tempted to keep going, I promise the kids will keep you honest. And over time, you'll either learn to talk faster or cut out all the unimportant stuff.
Focus on just one small skill all week long
One of the biggest mistakes teachers make when it comes to teaching grammar is trying to do too much too fast. Instead, you really need to slow down. And focus on just one thing at a time.
This means that you aren't going to teach nouns in one week. Instead, you are going to want to teach lessons on singular nouns, plural nouns, possessive nouns, pronouns, and more.
Your lessons will be much more effective and manageable (and take a lot less time) if you break each of the grammar standards down into small pieces. Just focus on one small kill at a time. And spend the entire week practicing this skill. This approach gives all your students the opportunity to master important grammar standards.
Integrate grammar into other subjects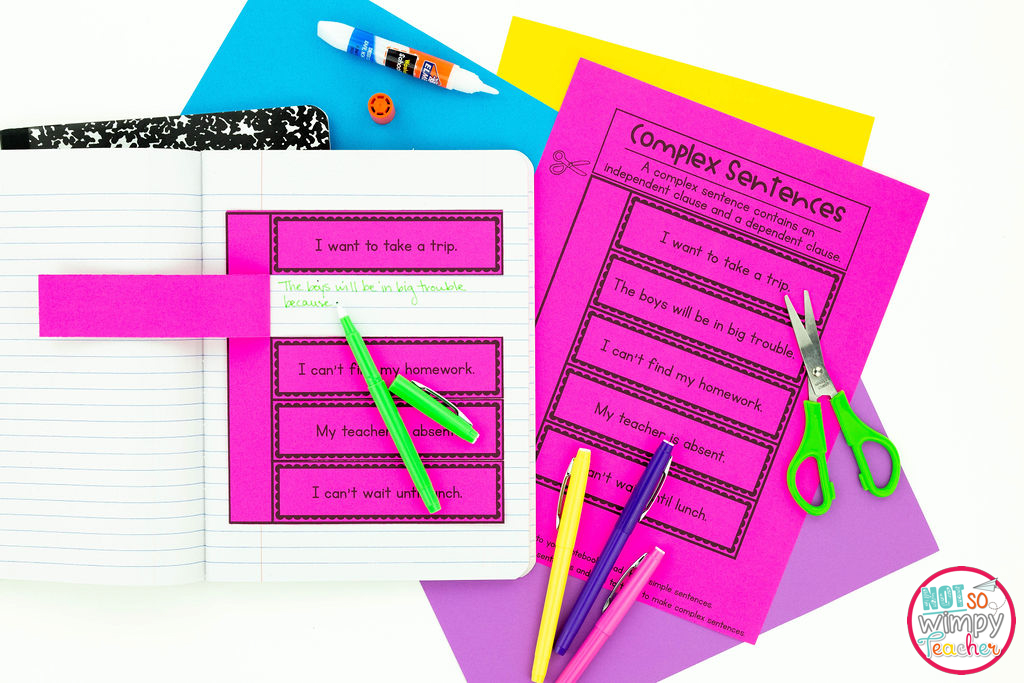 The cool thing about grammar is that we use it all the time. That's why it's so important that kids have a firm grasp of grammar rules.
You can use this to your advantage. You don't need dedicated time every day just to work on grammar. Instead, you can incorporate grammar practice into other subjects.
Here are a few ideas:
Use grammar writing prompts in writing or reading workshop to have students practice the weekly skill.
During your reading lesson, challenge students to look for possessive nouns.
During your science lesson, ask students to stand up every time they hear an adjective.
Practice grammar skills during transitions: have kids give you a pronoun before lining up or ask them to model a verb to get their supplies.
There are so many fun ways you can incorporate grammar skills into other subject areas. And this application will help kids make sense of and remember the rules.
Use my done-for-you grammar lessons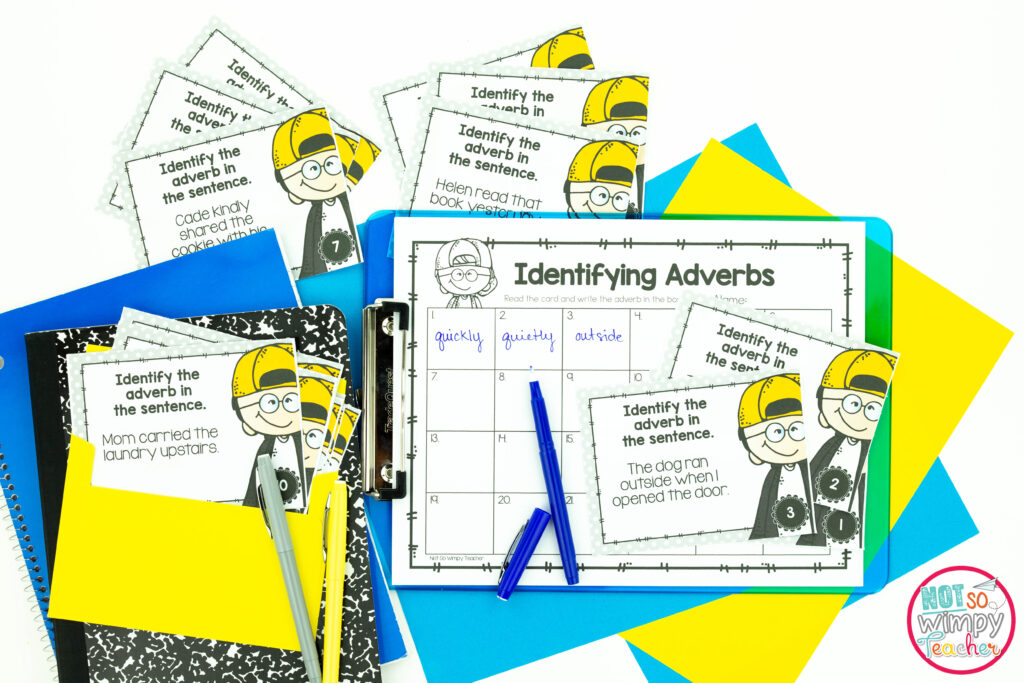 Okay, I know I said three smart ways, but I'm throwing in a bonus. If you really want to save time teaching grammar–planning time, prepping time, and teaching time–you'll love my done-for-you grammar lessons.
I've created a full year of grammar lessons for grades 2-5. All the lessons are designed to be completed in just 10 minutes a day (and you don't even have to think about it). Each week follows the same routine. We use the same activities all year long so you don't have to waste time teaching new directions. Plus, kids love knowing what to expect each day:
Monday: PowerPoint Mini-Lesson
Tuesday: Interactive Notebook Activity
Wednesday: Grammar Writing prompt
Thursday: Task Cards
Friday: Assessment
This really is the easiest way to save time teaching grammar. You can learn more about my grammar routine here. Once you try it, you'll never look back. Promise.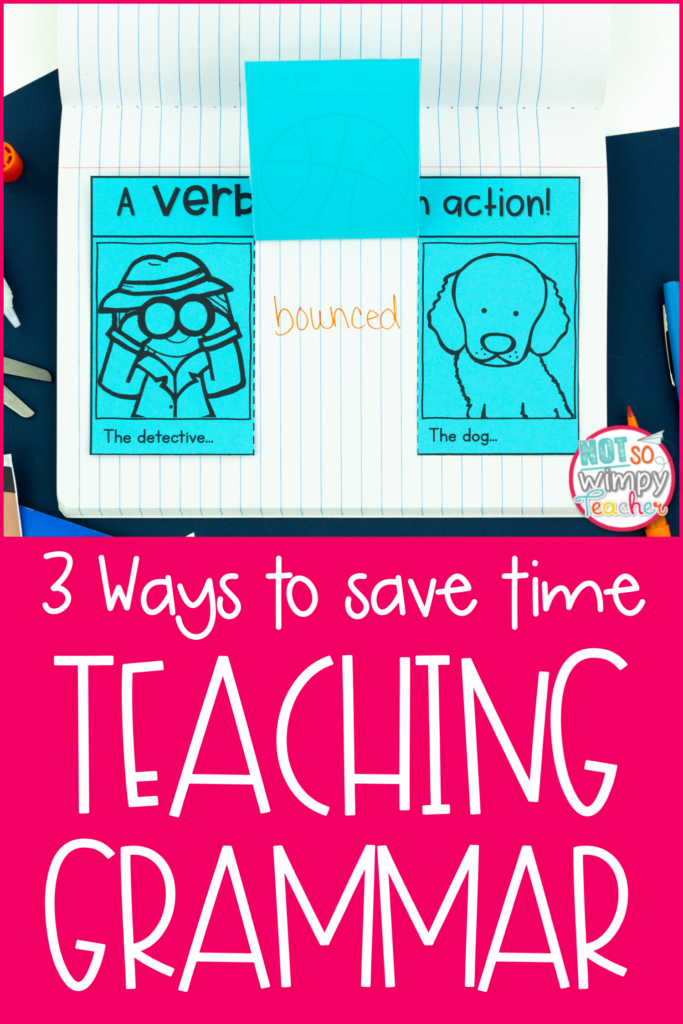 Have a Not So Wimpy Day,