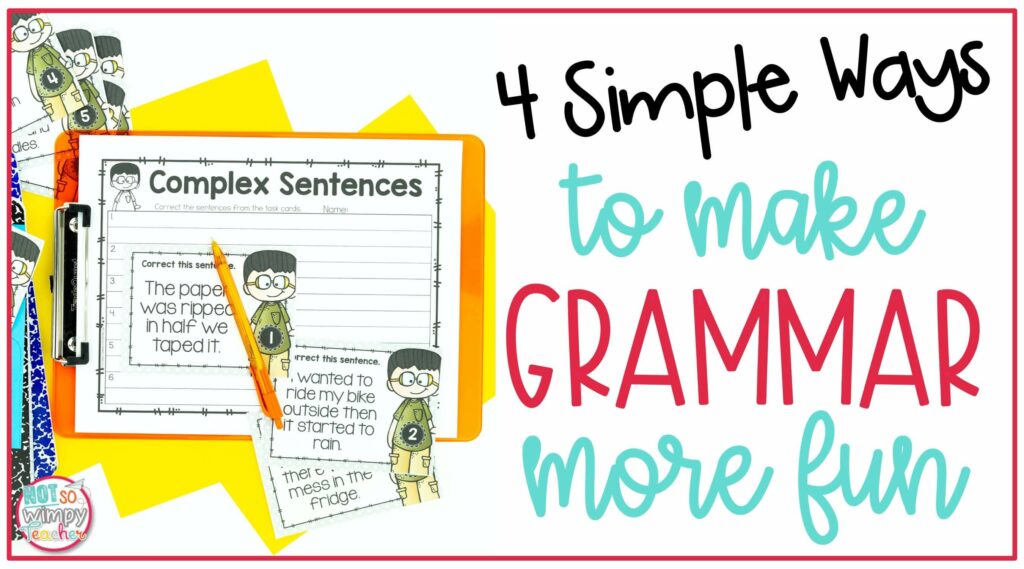 What is your least favorite subject to teach? If you're like most teachers, it's probably grammar.
No matter what you do, it's hard to get your students excited about nouns, verbs, and adjectives. And what even is a dangling preposition?
There are so many rules to memorize. And don't get me started on the exceptions to the rules. You know the ones, like "i before e except after c," except for words like their, weird, and seize, to name a few.
Teaching grammar can make even the best teachers wish for a well-timed fire drill.
But grammar doesn't have to be boring. All you need are a few fun activities to help bring a dry subject to life and to give your students meaningful opportunities for authentic practice that will help them learn the rules and recognize the exceptions.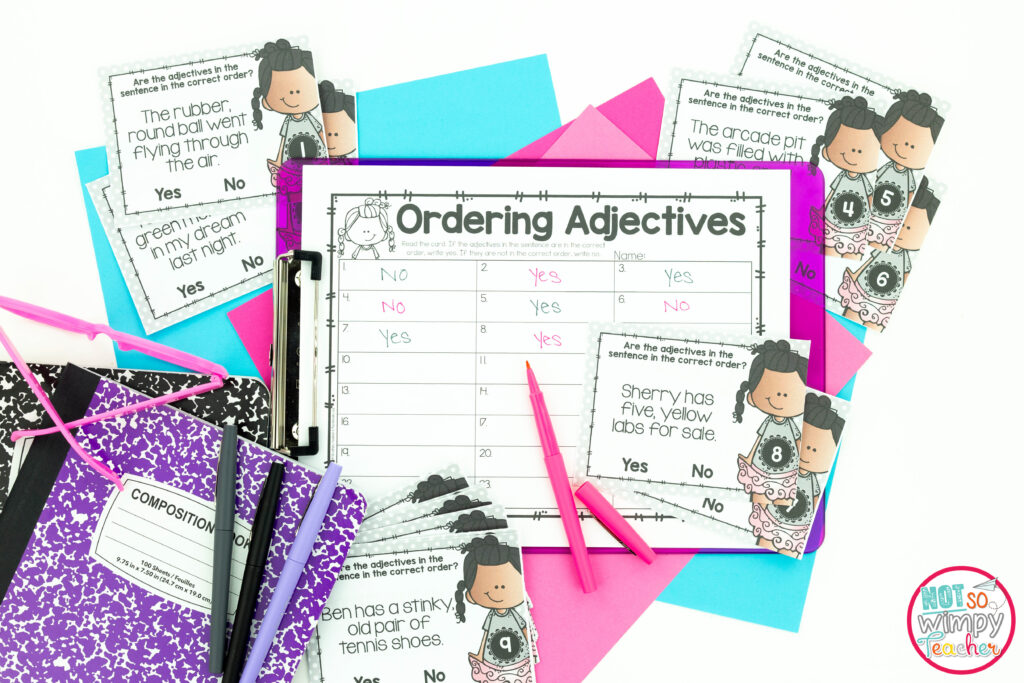 Keep it Simple
One of the easiest ways to keep your students focused on the lesson and prevent them from being bored to tears is to keep your lesson short. A mini lesson should be just that—mini. Meaning ten minutes, tops.
Rather than throwing a bunch of information at your students, choose just one concept to present to them. For instance, if you're teaching about nouns, you don't want to introduce the definition of nouns, the difference between proper and common nouns, and when to use plural nouns all in one lesson. Rather just focus on one small piece at a time.
Also, remember, grammar rules are tricky. Students relearn these concepts year after year after year. Don't expect your students to master every topic the very first time you teach it. Throughout the school year, you will have many opportunities to practice nouns.
Want to learn how to deliver the perfect short and simple mini-lesson? Sign up for my FREE professional development course on teaching grammar. I show you how to teach grammar in just ten minutes a day.
Task Cards Make Grammar Fun
Task cards are a great way to get students engaged in learning. On each card, there is just one question or task. Instead of a worksheet that presents kids with 24 problems all at once, task cards allow them to focus on just one question at a time.
The whole class can use task cards together. A fun way to get your kids up and moving is to do a Scoot. Place individual cards around the room and then have your students move from card to card with an answer sheet working out problems. This brings some much-needed movement to the day. Students can work individually or with a partner.
You can also put task cards in centers, use them for morning work or fast finishers, or even use them in small groups to reteach difficult concepts. Task cards are also great for differentiation and review.
Check out this post for more suggestions on how to use task cards in your grammar lessons.
You will find task cards included in all of my grammar units.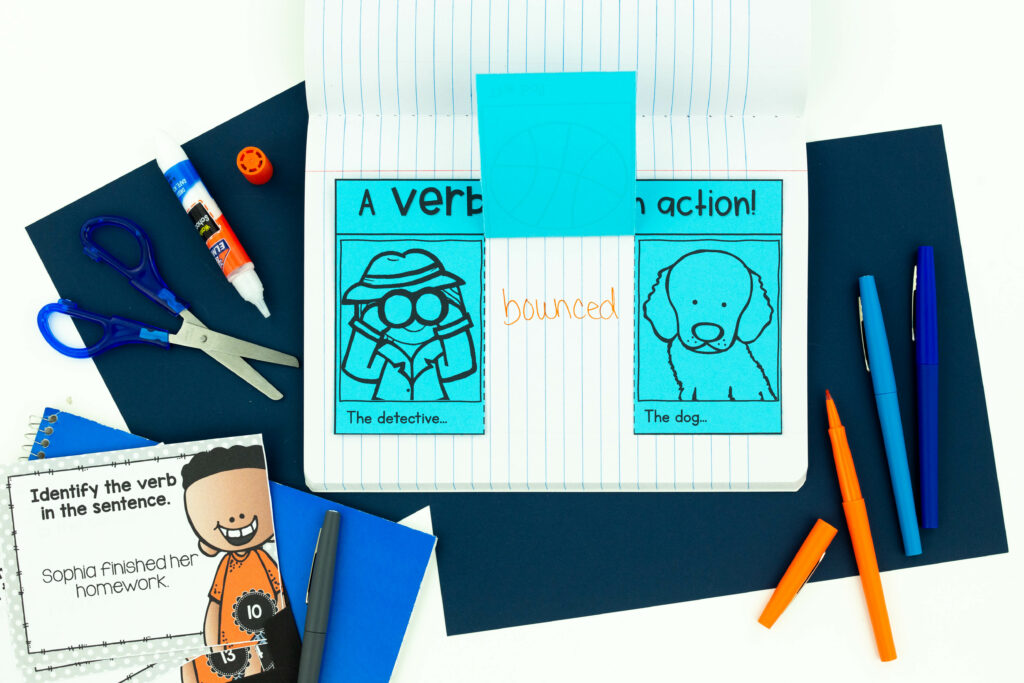 Interactive Notebooks
Another fun way to practice grammar is to use interactive notebooks. If you've been following me for a while, you know I am a HUGE fan of interactive notebooks.
Interactive notebooks are a hands-on way for students to practice any skill. As students learn a new concept, they complete the corresponding activities in the notebook. Throughout the year, the interactive notebooks become a collection of student learning.
The reason I love interactive notebooks is they engage multiple senses and complement different learning styles. Students aren't just filling in a worksheet; they are cutting, pasting, making connections, using higher-order thinking skills, and making a record of their learning. They are both more fun for students and more effective for cementing learning.
My interactive notebooks feature simple, straight cuts. The purpose of the activity is to learn grammar, not practice cutting. I also make sure that every activity has a purpose. Coloring and cutting are fun, but unless they are related to grammar skills, I don't have time for them. And neither do you.
That's why all of the interactive notebooks included in my grammar units focus on essential skills. And they keep the cutting simple.
My grammar units come with everything you need to teach grammar—a mini-lesson, interactive notebooks, writing activity, task cards, and an assessment. I have full-year grammar bundles for grades 2-5. You can buy individual units or save money and buy the bundle with everything you need for a year's worth of grammar.
Make Grammar Fun with a Game
Another way to make grammar fun is to throw in a fun game every once in a while. One of my favorites is Grammar Scavenger Hunt.
This is a simple game. All you have to do is direct students to get out a textbook or free choice book. Then select a grammar concept—noun, verb, adjective, command, interrogative sentence, helping verb, etc…—and ask kids to find an example in the text. You can divide the class into teams or have every student play for themselves. You can also set a timer and award points to the team or person who finds a correct answer first.
FREE Grammar Games
Want more grammar games to play with your class? Check out my FREE Grammar Games for grades 2-5! This resource contains two fun and engaging grammar games that review parts of speech and affixes. They're easy to differentiate and perfect for test prep. Just print and play!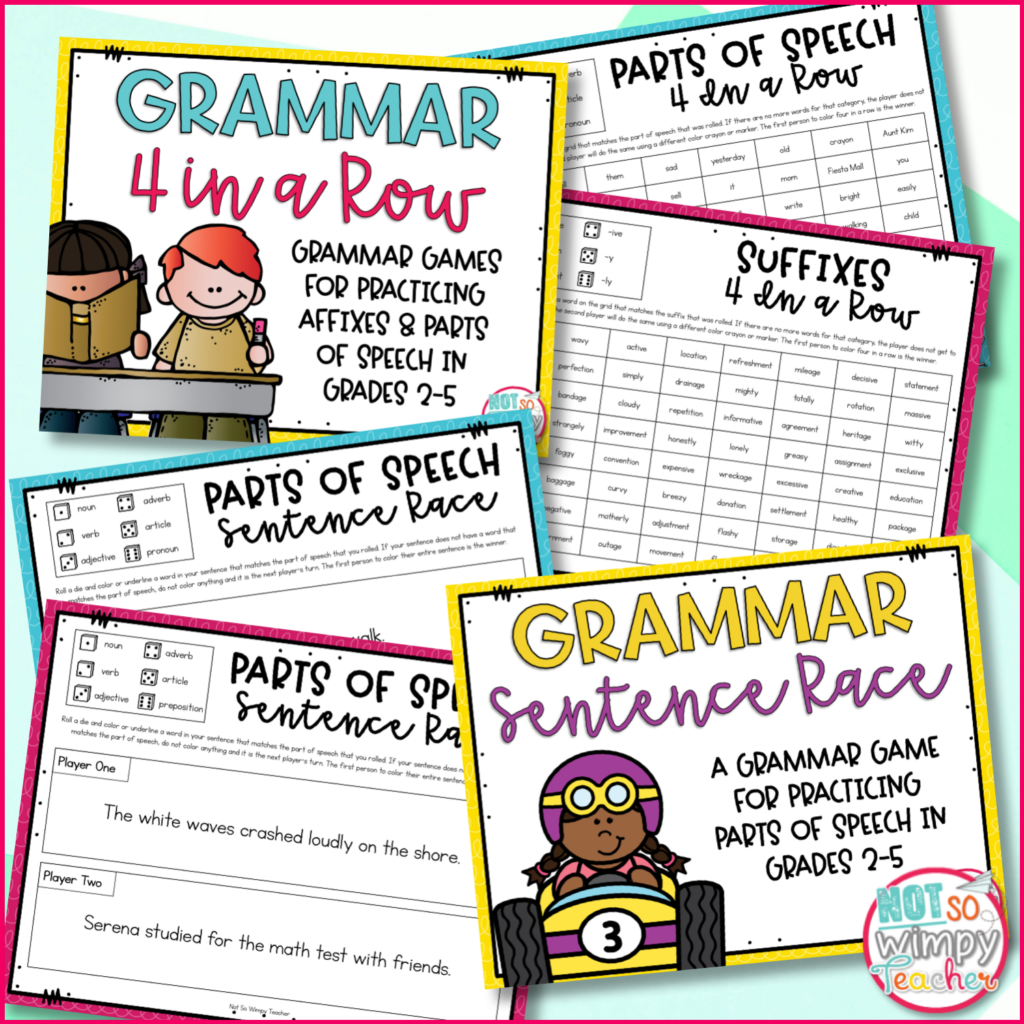 I hope these ideas help you make grammar lessons a little more fun for your kiddos.
Have a Not So Wimpy Day,