Do you set aside a time for explicit vocabulary instruction to your whole class? Are you differentiating your vocabulary instruction for those struggling learners?
Spending 10-15 minutes daily on vocabulary instruction is a meaningful way to help build students' comprehension skills. I suggest focusing on tier two words. These are words that students may not know, but will encounter in grade-level text.
Many teachers use the Not So Wimpy Teacher vocabulary units to meet the above goals. With these units, students learn five new words every week, and are also exposed to affixes that will help them discover new words.
On Mondays, students learn the definition of the word and write it out in a student-friendly sentence. On Tuesdays, students learn synonyms and antonyms of each word. Wednesdays are set aside to teach students a new prefix or suffix. Students are given the opportunity to draw a representation of their word on Thursdays. Last, students review, play vocabulary games, or take an assessment of words on Fridays.
To read more about this vocabulary routine, click HERE.
Monday: Definitions & Sentences
Tuesday: Synonyms & Antonyms
Wednesday: Prefixes & Suffixes
Thursday: Draw Pictures
Fridays: Games & Assessment
Students enjoy these routines! However, as teachers, we know we always have to modify and differentiate the curriculum for some students.
The good news is that differentiating your vocabulary instruction is simple!
Here are some ways that you can differentiate your vocabulary instruction to help struggling learners:
Vocabulary Hand Motions
Students love to get up and move. Anytime that you can apply movement to learning, you will reach more learners and keep them engaged.
I found that my students always enjoyed coming up with hand motions to represent each new vocabulary word. They were very creative! For example, one week our word was professional. A student recommended that we pretend we are shooting a basketball into the hoop. This movement represented a professional basketball player.
Attaching movement to words, helped some students understand the definition of the new word. You can come up with one motion for everyone to use, or allow students to come up with their own and share it with the class throughout the week.
Print the Vocabulary Teacher Guide
Some students struggle copying notes from the board. Many teachers prefer to project the definition or display it on their wall. You can help those students by giving them the student copy of the definitions early, or consider giving them a copy of the teacher guide. Copying from side to side is easier for students than looking up and back down at the board.
Some students (particularly those with dyslexia) also struggle with spelling. Instead of focusing on the definitions, synonyms, and antonyms of words (which is our goal), they end up stressing over the spelling. Now they have completely blocked out the conversation you had about the meaning of the words. You can avoid this by giving these students a copy ahead of time to keep at their seats.
Play Vocabulary Games in Centers
Students love playing games! Interacting in games is highly engaging and provides hands-on learning opportunities for your students.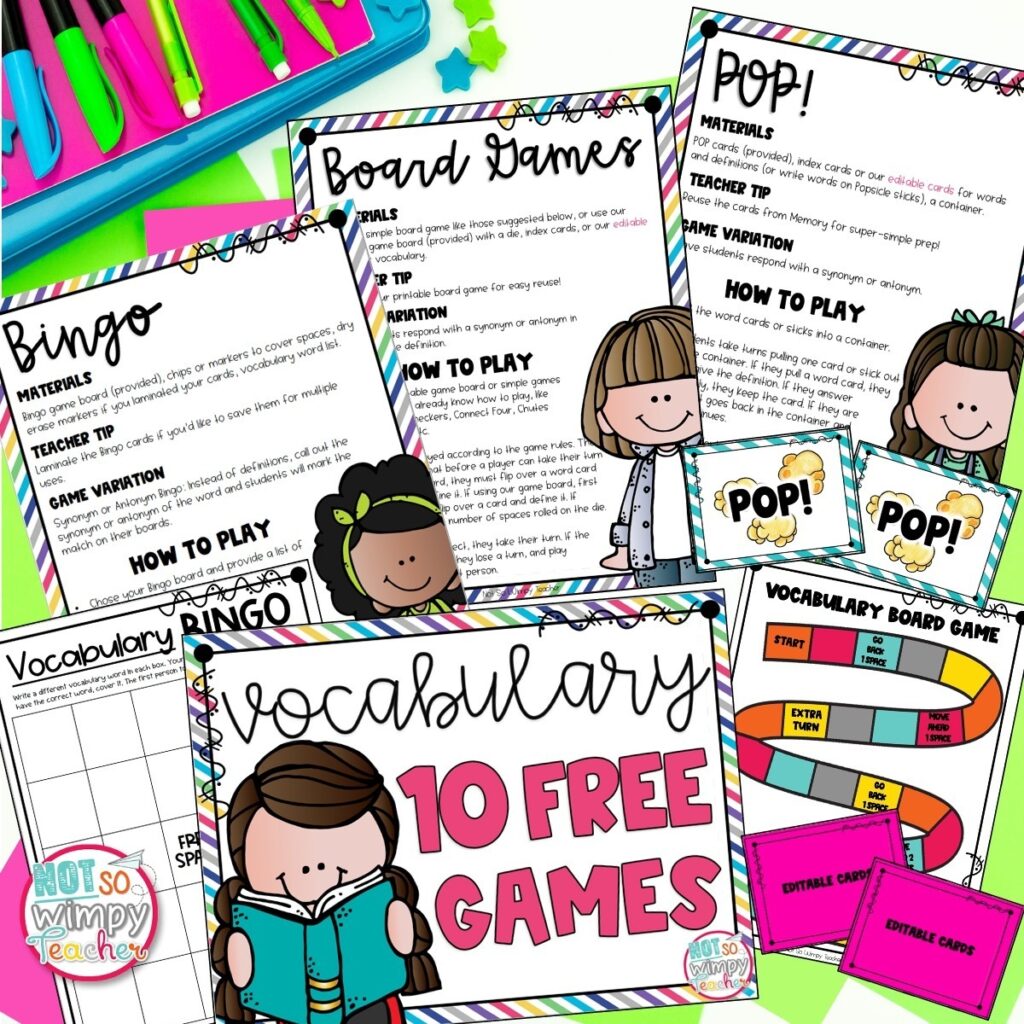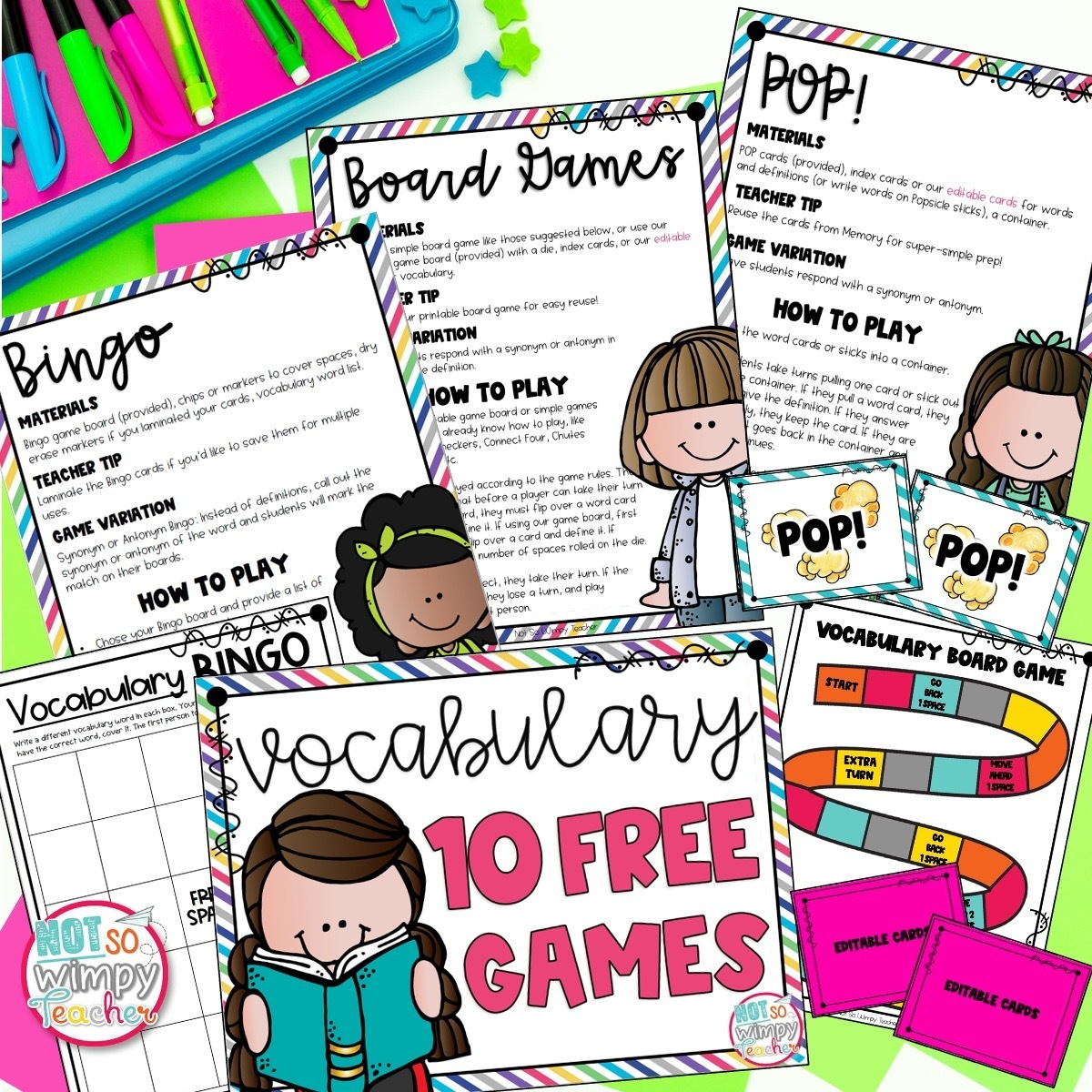 Consider giving your students more opportunities to learn vocabulary words by including a weekly vocabulary center.
You can find FREE games and other ideas on THIS blog post. Or grab 10 FREE Vocabulary games HERE.
Modify Assessments for Differentiation
The Not So Wimpy Vocabulary Units come with an assessment for every 2 weeks of words. The assessments have 5 multiple choice questions and 5 fill-in the blank questions. It is easy to modify these quizzes.
First, you could only have your students complete the multiple choice questions. You could also modify assessments in Google Classroom for these students. Consider doing this each week, instead of every two weeks as well.
Fewer Vocabulary Words
Each week, we learn 5 new words. I would suggest that all students record and learn all 5 words. However, you could choose 3 words that you want certain students to focus on instead of 5 each week.
I would rather have my kids master three new words every week than struggle and not learn any new words!
Use Technology for Vocabulary
You may also want to implement technology as a differentiation tool. One strategy is to add vocabulary words and definitions to Google Classroom. Students can use text-to-speech tools to help them read and practice comprehension of the words.
You can also have your students study particular words on Quizlet. You can even use Google Classroom to share a set of vocabulary cards from Quizlet directly to groups of students.
Spelling City is a paid subscription service. You may also consider using this tool tool to differentiate and modify your vocabulary instruction for particular learners. After assigning certain words to groups of students, they have the ability to play games to help practice the definitions of each new word.
Focusing on vocabulary instruction, will help your students with reading comprehension. All of our students need vocabulary instruction, and so it is imperative that we focus on differentiating our vocabulary instruction!
Have a Not So Wimpy day!