Setting aside 10 to 15 minutes daily for grammar instruction is important in the elementary classroom. If you want your students to learn the rules, it is important to review grammar regularly. Using the resources from Not So Wimpy Teacher's grammar bundles, I have been able to easily implement this practice in my classroom. You can read more about this routine by clicking HERE.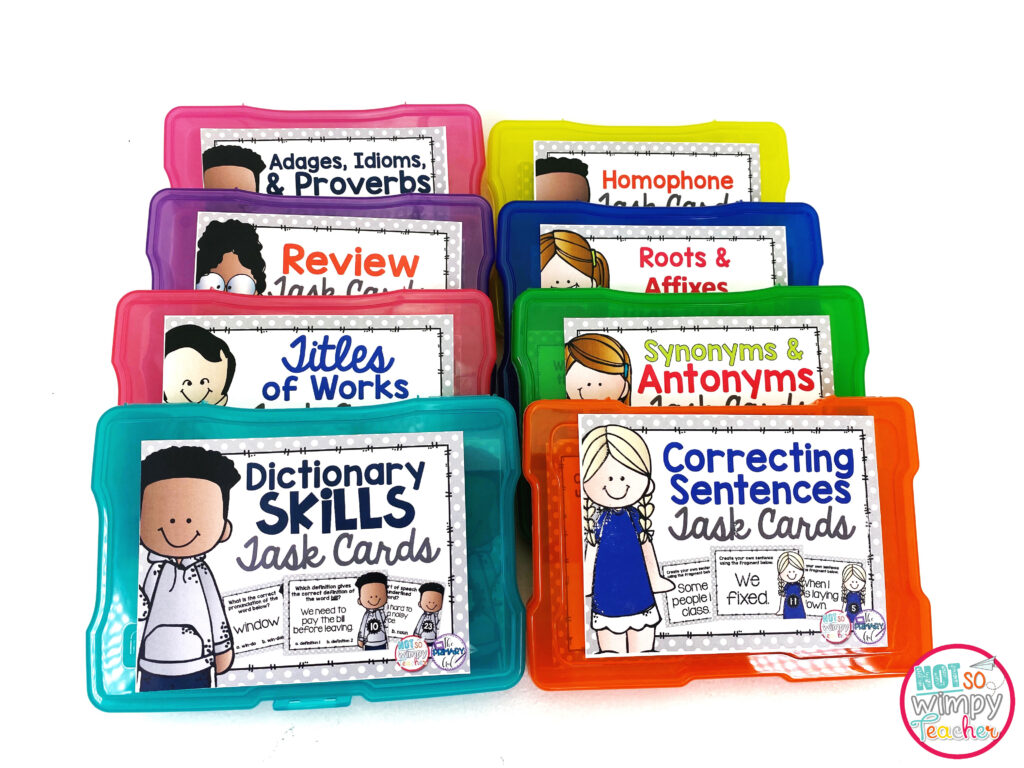 As the year progresses, I like to use easy and no prep ways to spiral review grammar skills. Here are four simple ways that you can add grammar and language into your day.
Price of Admission
This is a simple way to review any skill. This does need to be prepped once, but then you will be able to use it all year with little work on your end.
I printed THIS free sign, laminated it, and stapled it by my classroom door in the hallway. Then, I used a dry-erase marker to write a question I wanted my students to answer as they entered my classroom.
One way you can use it for grammar is by writing a descriptive sentence on it. Then as the students enter, you can ask each student to name the different words that represent the part of speech you give them. You can ask what the noun in the sentence is, what the verb is, what the adjective is, etc.
You can also keep it simple by writing a question on the poster. For example, "What is an adjective?" Or, "Name 3 verbs."
I love that this gets students answering questions in a non-threatening way. If they get it wrong, it's ok! Quickly correct them, and try it again tomorrow!
Attention-Getters
This is such a simple way to review grammar skills, and requires absolutely no prep at all!
We all use attention-getters in our classroom.  When we need our class to stop what they are doing and focus their attention on the teacher, we usually have a call-out that we use.
Well, sometimes we need to freshen up our routine.  How about after a week of studying a skill, you tell your class at the start of the day what the special call-out is. You could tell your class that when you say, "Person, place, or thing," they repeat with, "That's a noun!" You can flip it so that you say the part of speech, and students call out the definition.
Be as creative with this as you want! Add the rhythm to a well-known chant. Think of the popular sports chants such as, "Let's go Wildcats!" And the class calls back, "We are number one!" Keep the rhythm but change it to, "What's a noun?" and the class calls back with, "Person, place, or thing!"
Be sure they know that all rules still apply. So after they call back with the phrase of the day, they should freeze, put their attention on you, and be ready to listen.
This is a great way to review a skill before an assessment!   
Lining Up
This is similar to an exit ticket, but is a quick verbal response and is used anytime. It's perfect for when you have five extra minutes before lunch or specials. 
Start by calling out your question, then say a student's name that you want to answer. After they answer, they can line up.
Be sure to mix in lots of different questions, this way you are requiring your students to listen to each other and you. Examples might be, "Tell me an example of an adjective, it must be a different example than your classmates used." After 3 or 4 students have answered and lined up, change it up! "What is not an adjective?"
It's okay if you run out of time and don't get through your whole class. It's simply a quick, fun way to review grammar! 
As You Read
This is my favorite way to review because it allows me to showcase great language an author uses in their text. I love reading aloud to my class, and most of the time, it purely is a simple read aloud just to read and enjoy a book.
However, I always run across something that really needs to be highlighted. For example, students always use the same verbs, so I purposely bring attention to unusual verbs that they can use in their writing. Simply stop after a good word is used and ask your class what the verb was in that sentence.
You can also have your read aloud be more interactive. Have your students take out a piece of paper and draw a web on it. In the middle, they can label the category with the grammar skill you would like them to listen for. Then, as you read, they can branch off the web and write in the words they heard as you read that match the grammar skill. When you are done reading, consider having students turn to a shoulder partner and read their answers to each other. I have my students lightly color over the similar words that they both wrote down.
This is quick and so easy to implement. It gets students talking and interacting. This would then be a great resource in their writing folders.
It can be so easy to implement a review of any skill throughout your day. These are just a few simple ways to add language to your daily instruction without boring worksheets!
Related Resources and Freebies
FREE Grammar Games
Another way to practice grammar skills is to play games! Check out my FREE Grammar Games for grades 2-5. This resource contains two fun and engaging grammar games that review parts of speech and affixes. They're easy to differentiate and perfect for test prep. Just print and play!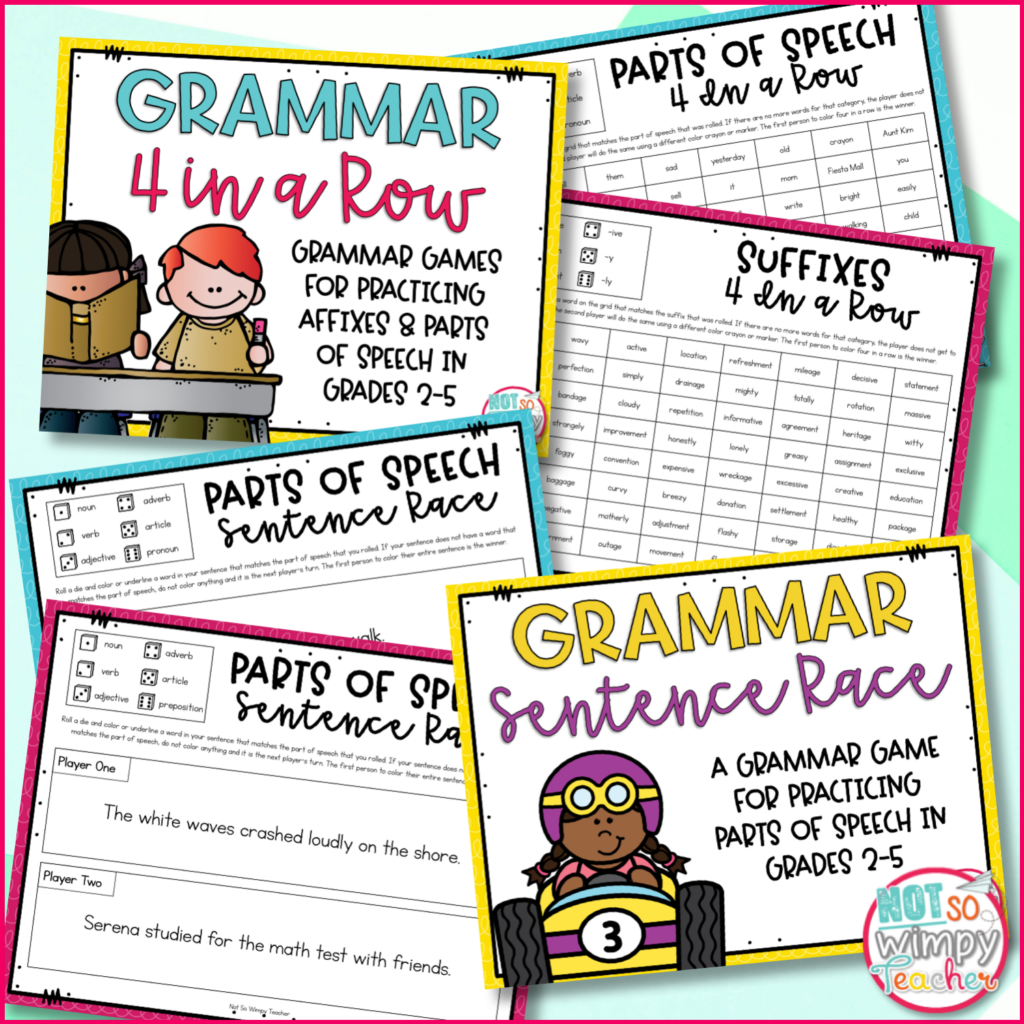 FREE Grammar Posters
Grab THESE free grammar posters to use in your classroom!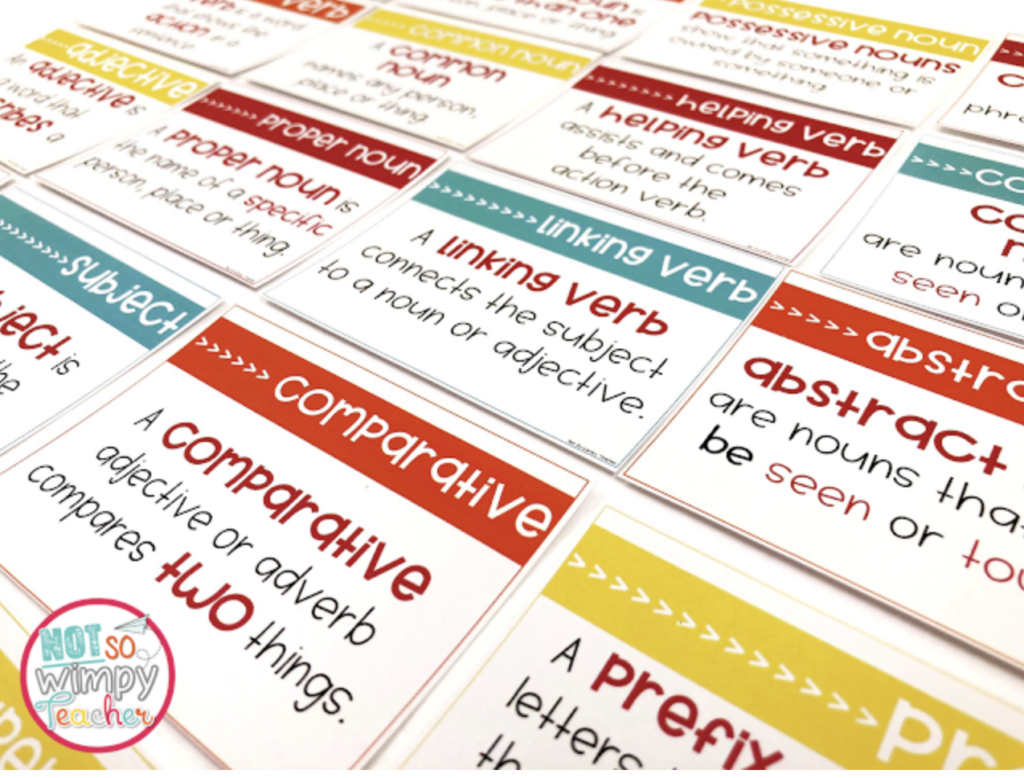 Grammar Routine Video
Would you like to learn more about my daily grammar routine? Check out THIS free video.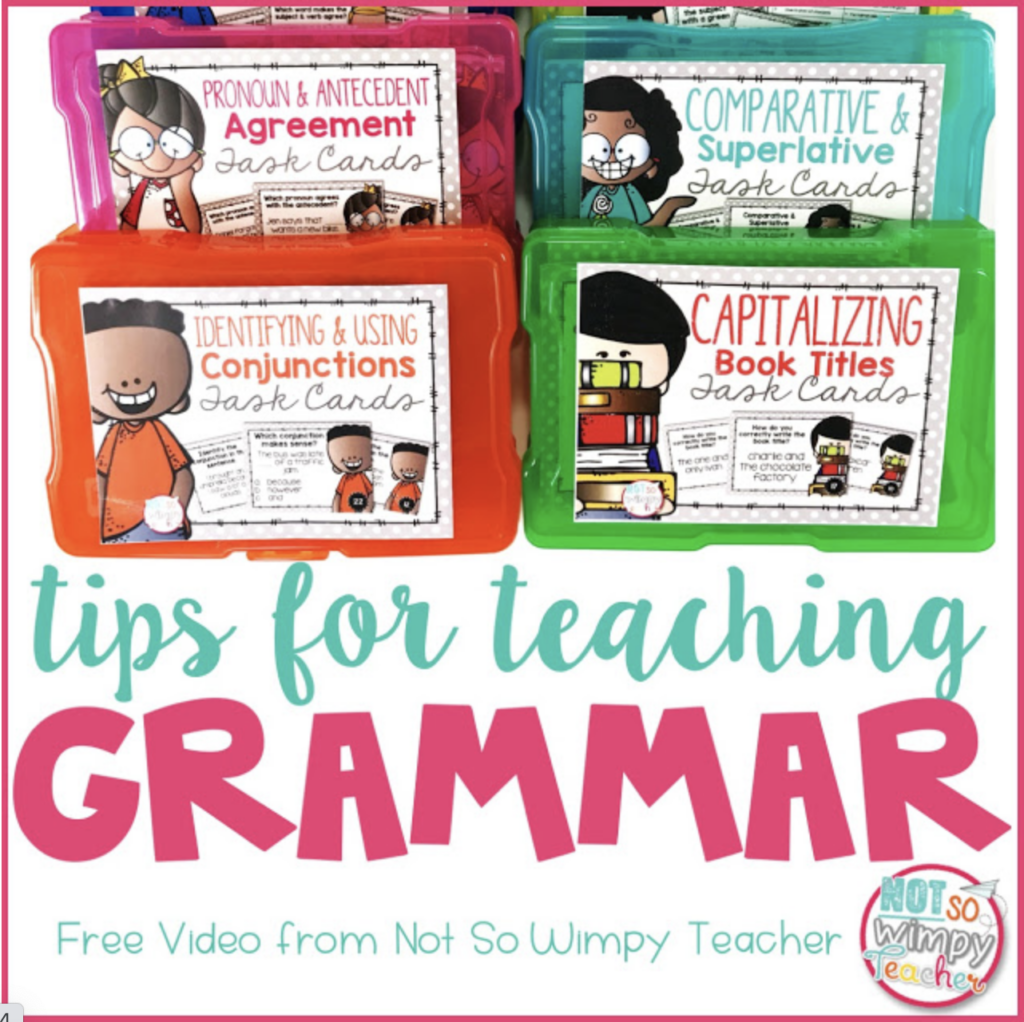 Done-for-you Grammar Lessons
Are you looking for a grammar curriculum that is easy to implement and engaging for students? You're in luck! I have a full year of grammar lessons for grades 2-5. Each bundle comes with 32 weeks of low-prep lesson plans. And every week follows the same routine so that your students know what to expect.
Monday: PowerPoint mini lesson
Tuesday: Interactive notebook activity
Wednesday: Grammar writing activity
Thursday: Task cards
Friday: Assessment
These bundles have everything you need to teach, practice, and assess an entire year of grammar, including review weeks to ensure your students master these skills. And I designed each activity to take only 10 minutes a day.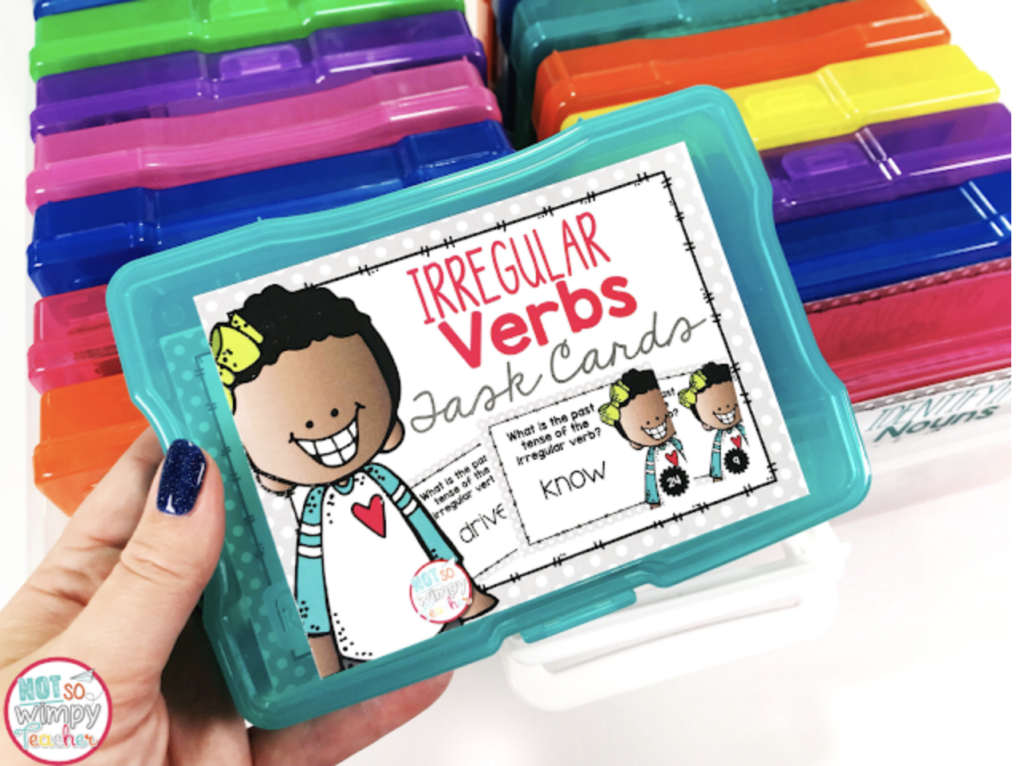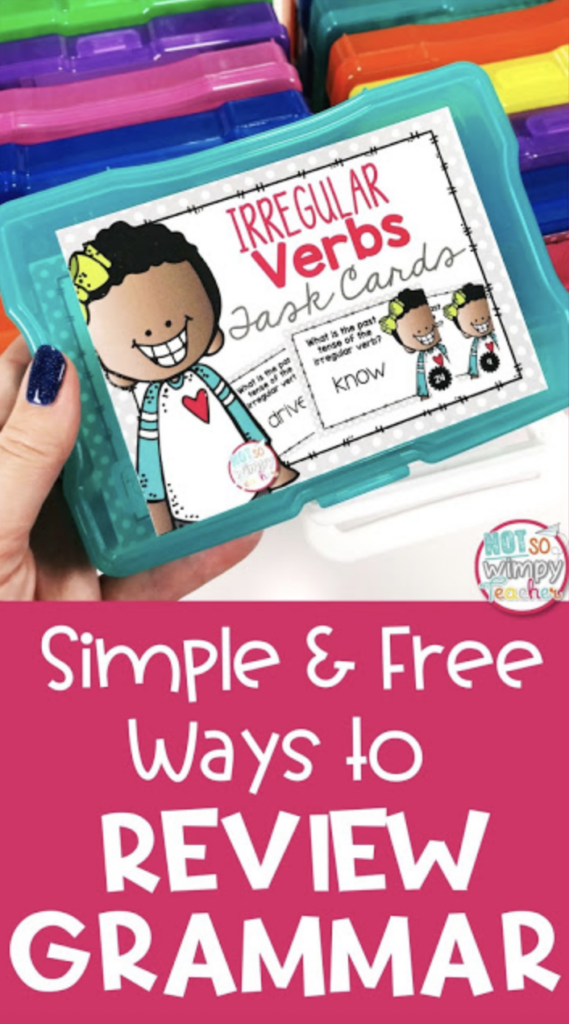 Have a Not So Wimpy day,